The USODA Team Trials: When 4 days determine a year of preparation
By Bernat Gali Bou, USNT Coach, Lakewood Yacht Club Head Opti Coach
Let's be honest…when does the Sailing Schedule ever give us a break throughout the year? Really, if a sailor doesn't want to ever take a break from racing, he/she could be sailing at least one important Regatta (USODA and International Level) every month. In reality, sailing its a year round sport, only that depending on the area where the sailor lives, it becomes a year round 'traveling' sport.
Depending on the level of commitment, the sailor's experience, the amount of resources your Yacht club or Team have (logistics, coaches, group size) and the family's support, a sailor could be traveling as much as 2-3 weekends a month, including flight and drive time. Some Opti Sailing Teams around the country never stop their activities, and there's pretty much something happening every weekend, whether it is practice, racing or travel to an out of state event.
After three years and a half in this country, I always wonder..all this commitment, all this travel, all this time on the water, all this effort from the sailors obviously, but coaches and parents as well…what's it for? Sure everyone's guess it's the same: the USODA Team Trials.
The United States Optimist Dinghy Association organizes several Regattas across the country, spreading them as much as possible so every sailor has a chance to qualify for the most important event of the year. Because yes, you need to be part of the top 25% in this country in order to earn your spot for the USODA Team Trials.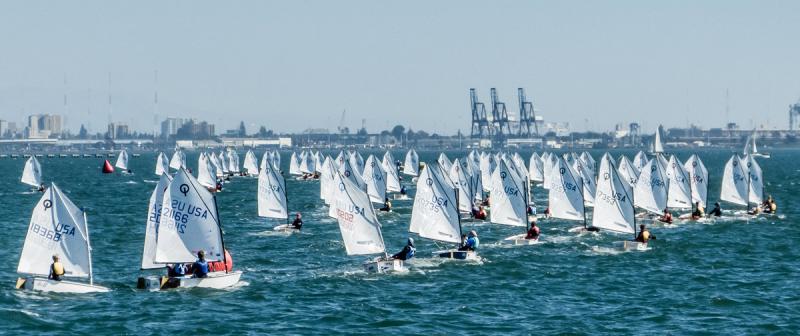 So all this time on the water, all this effort, all this Regattas and all this travel in order to achieve one goal: earn your spot, and then, succeed at the only qualifier of the year where the Teams representing the USA at Worlds, Europeans, North Americans and Asians, IODA  (International Optimist Dinghy Association) sanctioned Regattas, will be selected.
Think about this: a full year of work for many sailors, and only 4 days (12 races max) to perform the best they can so they can achieve their yearly goal. Sounds crazy? It might, feels challenging? It sure does! And that's what I truly believe: many factors affect a sailor's performance at any Regatta (weather conditions, school work, long travel, coaching, accommodation) but nothing else affects a sailor attending Team Trials as much as it is pressure.
As many as 40 sailors will earn a spot to compete at one of the only 6 IODA Events of the year, and that's a precious prize many sailors dream to achieve. It doesn't matter how well you performed throughout the year, or the other way around, Team Trials can change a sailors perspective for an entire year. How to approach this unique Regatta? How to make the sailor s perform at their best? How to deal with the pressure, many times being the self pressure the toughest one?
I don't have a magic answer, and if I did, not sure I would share it openly…lol ok, now seriously, in my humble opinion t's all about communication, goal set up, process making and confidence. Sounds familiar? Yes, the mental game.
When you only have 4 days to achieve your goal (whether it's qualify for Worlds or just make it to Gold Fleet), the sailor needs to feel like communication goes both ways and it's clean (no riddles). The sailor needs to have a clear goal, one that's challenging but at the same time he can achieve. The sailors need to have its process automatized (have a perfected routine which will bring you to perform on the water) and finally, the sailors needs to feel confident on his/her skills.  Whatever happens in the next four days, the sailor should feel he/she is as ready as he/she ever been, and most important, enjoy every second on the water.
Bernat Gali Bou
USNT Coach
Lakewood Yacht Club Head Opti Coach