Conceived and designed in New Zealand, over 1,300 Weta trimarans have been sold worldwide since it was launched with a splash over 11 years ago.
Hand-crafted – this is no "machine-built boat" – the fibreglass/carbon composite construction delivers the perfect pairing of rigidity and lightweight performance. Expertly made for maximum enjoyment and minimum fuss, whether you're sailing all out solo, mixing it up with the family or teaching the kids to sail, the Weta is simple to sail, surprisingly quick, and an absolute ton of fun.
It fits into the space of a Laser on the custom trolley but takes only 20 minutes from stow to go with the lightweight carbon components making it easy to assemble.
New for 2017 are a Performance version with foam-core hull and floats making it both 12Kg (26Lbs) lighter and stiffer. And a new larger 9.3 SqM bi-radial square-top mainsail (SQ) compared with 8.3 SqM of the standard sail. The SQ gives more power in light air, excellent downwind but still capable of handling the big breeze that the Weta is famous for.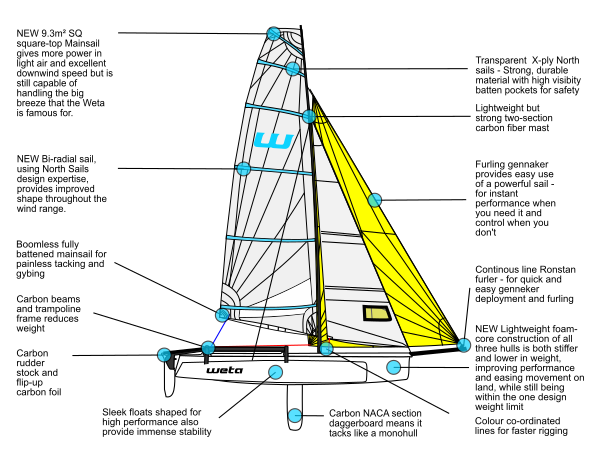 Sailing World, a major US magazine, awarded the Weta 4.4 Trimaran "Best Dinghy" in their 2010 "Boat of the Year" awards – read the review here In 2016 the Weta was approved for Paralympic sailing because of the combination of stability and performance it provides and it was also used for the World Masters Games in 2017 – with a fleet of 52 Wetas in Auckland, New Zealand. Find a Weta near you using the Weta World Map www.tinyurl.com/wetaworldmap
Fun, fast and easy, life's better with a Weta!