By Chris Klevan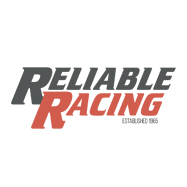 Below is our top-down Part I look at some of the top teams competing in the 2018 Spring ICSA Team Race season. The season is bound to be a thriller. Stay tuned for Part II, where we round out the top 20 potential ICSA 2018 Team Race Champions!!  Feel free to post your thoughts in our discussion forum below this article!
Team Racing requires a combination of knowledge, skills, and teamwork. To compete at the highest level, a team of three boats, sailing in concert, must have the experience to execute split second maneuvers, and have chemistry to communicate and adapt to dynamic changes in the play, and finally, the speed to sail away.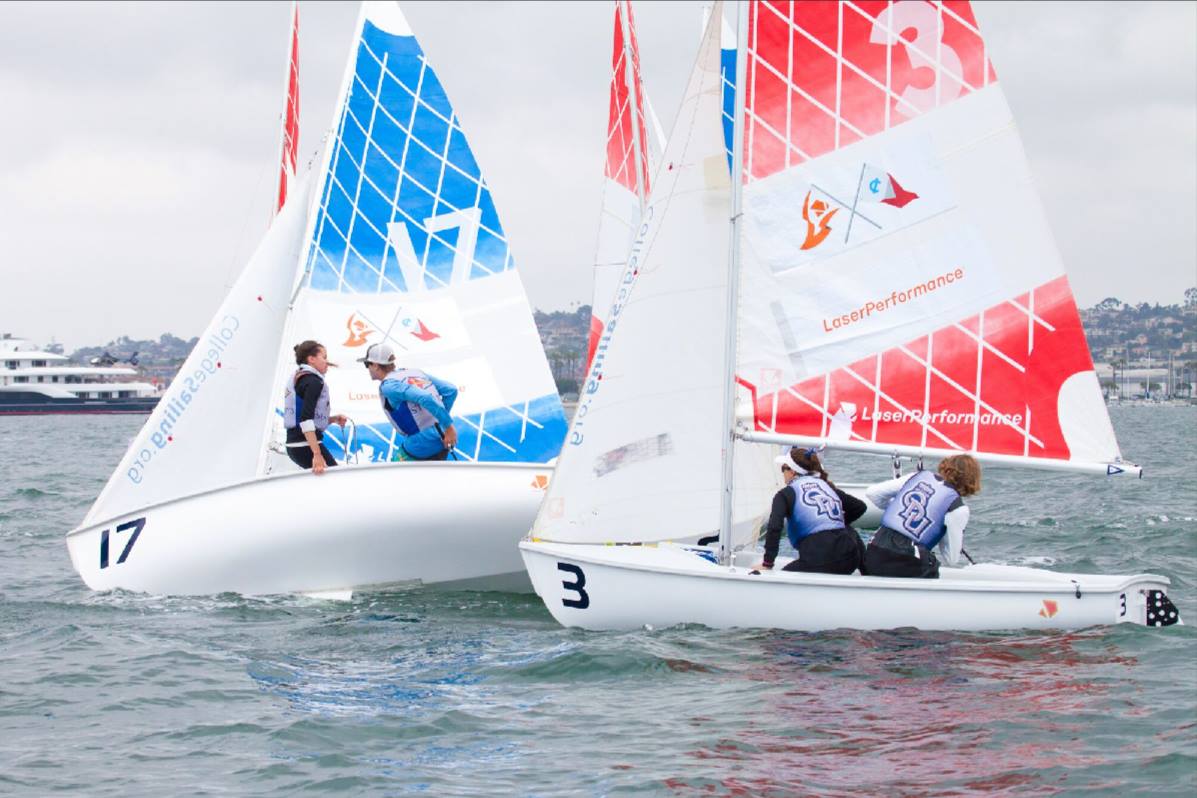 The biggest factor that separates the players from the pretenders is the third skipper. All the top teams have two boats with blinding speed, great boat-handling, and an eye for beating another boat. But only the top teams have three skippers with such a combination. That's the first thing to look for when trying to discern who's ready for the big league. However, the factor that separates the players from the champions is the crew. Who's in the front of the boat will dictate who comes away with the crown.
However, for a championship caliber team to become a dynasty, a team that can win the championship year after year, it takes 6 full boats that can team race at the highest level. "Yale's ability to bring in the recent grads, GTown's depth overall [these are the difference-makers.] If you don't have solid people to practice against, it's hard to improve because your mistakes are not accounted for in practice," says Cornell University head coach Brian Clancy. Quality practice breeds the players of tomorrow. To fully forecast the future of college sailing, you must dive into who's been practicing with depth.


photo by Rob Migliaccio
The 2018 ICSA Team Race National Championship will be held at Old Dominion University, May 26-28
College of Charleston
Last year, we saw the College of Charleston Cougars take home the Team Race Championship behind the prowess of Stefano Peschiera, Jack Cusick, Christophe Killian, Grace McCarthy, Chloe Dapp, Annabel Carrington, Caroline Bracken and Elizabeth Pemberton. With any title defense the first place to start is with the question, what has changed?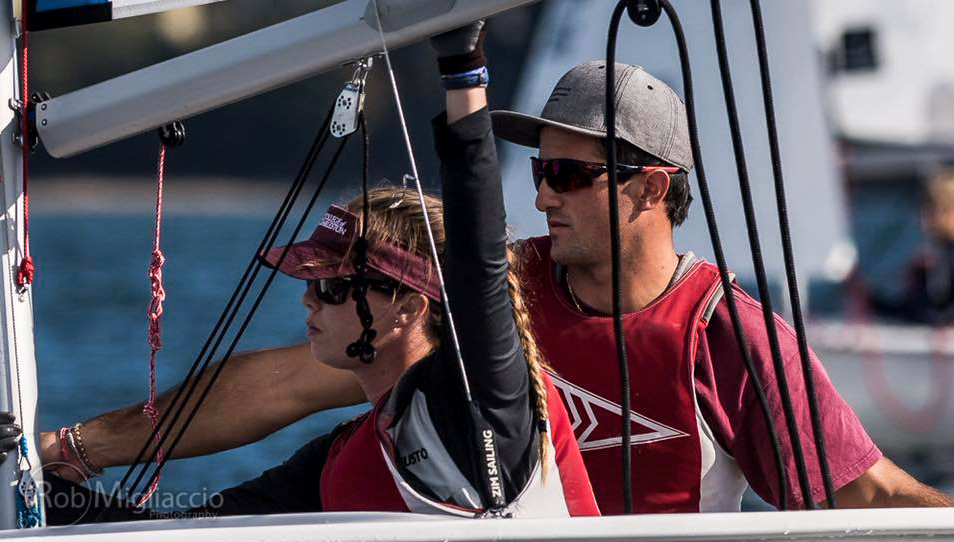 Photo taken from the College of Charleston  sailing facebook page
First, Charleston will have to prove they can win away from home. It will be interesting to see how the Cougars come out of the gate this spring season. Last season, the first interconference team race regatta that Charleston won was the National Championship regatta. Perhaps they found an advantage on their home waters. Perhaps their breakthrough came at the right moment. There are more questions remaining here than with most defending champions. They certainly have the continuity required to maintain the momentum gained in taking home the Wood Trophy.
Last year's championship team featured only two seniors, Jack Cusick and Chloe Dapp, who, now removed, the Cougars will be looking to replace. Many look to transfers Augie Dale '19 and Katherine Lounsbury '20 to pick up the slack. Dale and Lounsbury are the natural choice to step in for the Cougars after an impressive fall fleet race season. The tandem notably won A-Division at the Atlantic Coast Championships.  They say speed makes you look smart. Dale has yet to prove himself on the team race circuit, but, at the very least, he's proven that he has the wheels to compete. Though we'll have to wait to see how Dale and Lounsbury fit, Charleston's other two boats are extremely solid.
Christophe Killian, a match-race specialist, finished 2nd at this year's Match Race National Championship and was part of the ICSA Match Race Championship boat in 2015, driving, as just a sophomore. There are many parallels between the two disciplines and Killian proved that last year in Charleston's championship effort. Therefore, on the team race course, Killian was not the "third" last year, and he will not have to step up for Charleston to return to championship form. Replacing Cusic is a much more natural task for the speedster, Dale.
Stefano Peschiera is in the driver's seat for this year's College Sailor of the Year award and he was a dark horse candidate last year. He is arguably the best sailor in the country right now with slippery speed and dominant boat handling. The question lingering as we entered the championship season last year was if this great sailor could figure out the college team racing game. Such doubt was quickly silenced during last year's event. No such questions are being asked this year.
Finally, it cannot be understated that Charleston's victory last year featured a stable of experienced and versatile crews- quality that is especially characteristic of all the great Charleston teams. Good crewing is a necessity for a team to compete at the highest level of team racing. The Cougars only lost one of their starting crews from last year's team. Expect the story behind Charleston's success to remain the same in their title defense this year as they venture away from the shores of the Cooper River, north, to Old Dominion University.

Yale University
Charleston's win at the 2017 championship came as a surprise to most. Those shocked, likely had Yale pinned as the favorite. Reaching dynastic status on the Team Race circuit, the Bulldogs of Yale had won four straight national championships before finishing second in last year's championship. However, this year will be much more uncertain for Yale.
The path to the championship for Yale is extremely difficult. Yale must qualify as one of the 4 teams to represent the New England Conference at the New England Conference Championship. Before their 4-year run of championships, Yale was only featured sporadically despite fielding some of the best talent in the nation- a testament to the depth of the conference and the challenge presented by the qualification process. The question now is whether the Bulldogs will yet again be able to transcend above the competitive NEISA conference.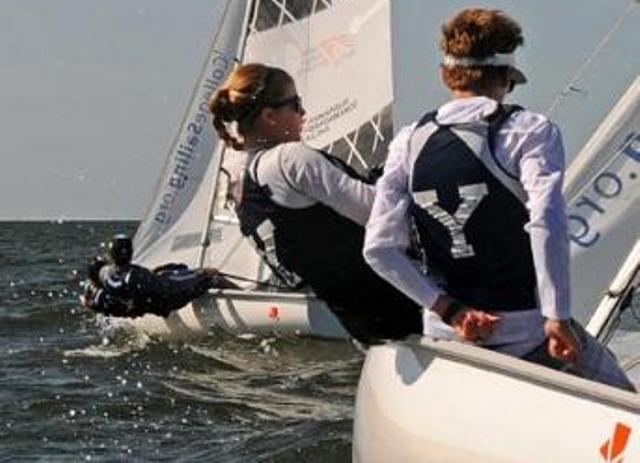 On one hand, like Charleston, they have 2 team race national championship winning helmsmen in Malcolm Lamphere (2 time champion) and Nicholas Baird, who is still in the running for this year's college sailor of the year award. On the other hand, the third skipper hole they are attempting to fill is a big one.
Last year, Yale graduated Ian Barrows, the 2017 College Sailor of the Year and a finalist the year prior. He was a four time All-American, a three-time Team Race Champion, a three time Fleet Race National division winner, a two time Fleet Race National Champion and a team leader. Furthermore, his graduating class was stacked. Yale graduated 3 excellent crews, one being Clara Robertson, the 2017 recipient of Julia Babineau, NEISA crew of the year. Another being Natalya Doris, perhaps an even more experienced crew than Robertson.
They also graduated Mitchell Kiss, a consistent starter at the skipper position. Kiss was probably good enough to be the best sailor on all but a handful of teams in college sailing and the fact that they had 4 skippers good enough to compete at the pinnacle of college team racing meant their practices were unmatched. This, however, is the biggest argument for Yale's continued successes this upcoming season. For years now, Yale has been practicing a level most coaches could only dream of, sailing 6 solid boats. Yes, they lost 2 and a half premier boats, but they are able to fill such large losses better than anyone.
Waiting in the wings are two skippers that have spent their team racing careers in the background, boosting the dynasty that appears, on paper, only to be 3 great boats. Junior Nicolas Hernandez is extremely speedy and will surprise competitors thinking that Baird and Lamphere are the only threats. Senior Casey Klingler is unquestionably the best female team racer in the nation- a crown she'll take from last year's college sailor of the year, Erika Reineke. On top of that, freshman Shaun Harvey proved last fall that he has the goods to compete at the highest level of college sailing. An embarrassment of riches, Yale's weak boat will either be a very experienced speedster, the best female team racer in college sailing or one of the next bright stars in the sport.
The tough choice of third skipper is a good problem for Yale to have. This will boost Yale, again, to the position of favorite in NEISA. However, for them to get back atop the podium in 2018, their young crews, led by sophomore star, Graceann Nicolosi will have to step up in a big way.
Georgetown University
Finishing 3rd at last year's championship, Georgetown was the one of the youngest teams at the event. An incredibly talented group, Georgetown returns all starters from last year's effort with the exception of one crew, Albert Kraus. The experience gained by the young platoon last year cannot be overstated. That, coupled with an excellent rotation of crews, led by Meaghan MacRae and Haley Shea, will make Georgetown one of this year's favorites with an extremely high ceiling to their potential.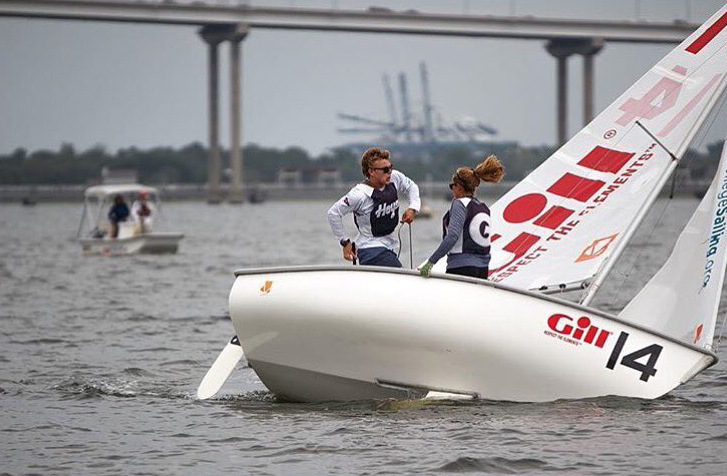 One potential wrinkle is who will Coach Mike Callahan look to when the chips are on the table. Last year, Callahan alternated between the two youngsters, Will Logue and Sean Segerblom, while leaning on the experience Campbell D'Elliscu and Roger Dorr. Dorr is a senior, and, while he's probably the most experienced of the group, he's also the most known quantity. At this point you know, with Dorr on the water, you have a solid team. However, it's extremely hard to say just how good Logue and Segerblom can be. If those two guys live up to the hype, we could be talking about a Yale-like dynasty for years to come. The question will be how will Callahan weigh reliability versus upside.
Photo taken from the Georgetown University sailing facebook page
We should get our answer to this question relatively early in the spring season due to a change in how the Mid Atlantic Conference (MAISA) is approaching their team race season. The Graham Hall Team Race at Navy is a heavily weighted regatta. Callahan, and Georgetown, likely won't have the luxury of experimenting with their roster this season. The Hoya team shown at the Graham Hall, early in the spring season, will likely be the team Callahan believes give them the best chance to win.
D'Elliscu lies somewhere in between Dorr's experience and the talent of Segerblom and Logue, although to study abroad, he did not sail in the Fall of 2017. When placed in a similar position Segerblom and Logue are in now, Mr. D'Elliscu has yet to falter. Georgetown relied on D'Elliscu when conditions got light at the Fleet Race National Championship in San Diego, 2016. Just a freshman, Mr. D'Elliscu was clutch to close the championship campaign for the Hoyas. Despite the skills of 2016 sailor of the year, Nevin Snow, the Hoyas needed D'Elliscu and he delivered. Now, as a Junior, D'Elliscu will have to be one of the leaders for this Georgetown team to be a contender.
Hobart and William Smith Colleges
Many look for this team to take the step forward from great to elite. HWS finished 5th overall at the Team Race Nationals last year, but, like Georgetown, graduated only one player, Adam Schaefer, an alternate crew. However, unlike Georgetown, there is no question who they will start at the skipper position. The combination of Guzman, Hobbs and Miller with Weber, Flaherty and Kloc won't have to look to establish chemistry or find speed. This season, for the northerners, will be about asserting their will on the league.
The reliability of Miller is the key for the stability of HWS. All other MAISA teams have question marks in the third spot of their depth chart. In order for Charleston to stay at the top, Augie Dale and Katherine Lounsbury will have to prove they have the chops, for Georgetown, their young guns will have to mature. HWS has three boats with the speed, smarts and chemistry together. On top of that they have the crews to finish the job.
According to head coach, Scott Ikle, it is the crews that will put this team over the top, led by Junior, Lindsey Kloc. "Like all great crews, Lindsey brings the best out of her skipper," said Ikle. "Miller is solid skipper on his own, but last year, sailing with Lindsey, he was excellent."
Boston College
Of teams finishing in the final four in last year's championship event, Boston College looks to be most in jeopardy for a step backwards. Graduating 6 players from last years 4th place finishing team is tough enough. However, they also graduated 4 starters, 2 skippers- 1 being the women's college sailor of the year. Erika Reineke left some big shoes to fill, but the loss of the elite All-American crews Hannah Lynn and Allison Ferraris may have left an even larger void.
Over the past decade, few schools have been able to match Boston College's culture of reloading year after year. A team now proficient at producing a product greater than the sum of its individual parts, Boston College, throughout recent history, has been one of the premier sailing colleges in the nation. "Somehow I got lucky enough to have some very talented sailors buy in to that philosophy (a long time ago!) and that has made all the difference," said Head Coach, Greg Wilkinson.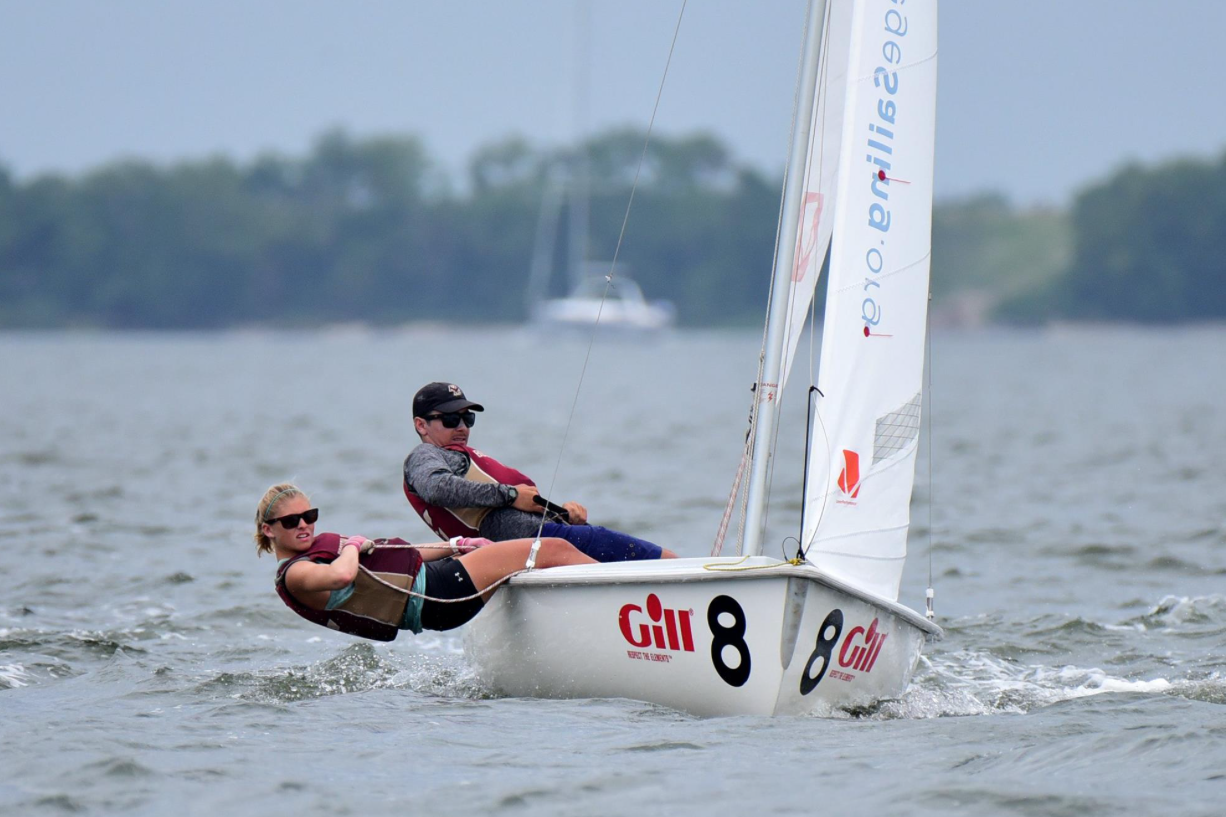 This year, the Eagles will be able to lean on one of College Sailing's current team racing greats, Scotty Sinks. Sinks returns for his senior campaign. If the two newcomers to the starting lineup can prove they can navigate the digital-N with speed, Sinks is capable of making this team a contender in New England. However, the presumptive "next man up," junior Wade Waddell will have to step up in a big way if the Eagles hope to get back to the final four.
Photo taken from the Boston College sailing facebook page
How the remainder of the team is composed is more up for debate. Thus far, sophomores, Colin Brego and Scott Rasmussen have shown the ability to step forward as the potential candidates. The crew position poses, perhaps, an even larger question. With Ferraris and Lynn graduating, the Eagles will have to replace two of the best crews sailing last year.
Wisely, however, BC sailed more crews than any other team at the Team Race Championship, 8 different crews logged races. With this experience, those looking to fill the shoes of Lynn and Ferraris know what it expected of them at the highest level. "That work began last year," said Wilkinson.  "The real reason to develop your "second team" [not a term I like very much – we just have one team] is to prepare the future, not to 'make practice better'. We're not trying to develop different TR teams on our team.  We're trying to develop everyone's team racing ability." Emma Perry, Tara Ferraris, Lily McGrath and Scott Rasmussen (a single-handed national champion) are all returning after contributing to last year's 4th place finish at the Team Race Nationals.
"At this point, I rely on the team leaders – the seniors and the captains – to pass that mentality on to the younger sailors," continued Wilkinson  "It's not easy – as they say, sailing is by and large an individual sport.  We've tried to create a team first mentality.  We've had some success with it.  Our upperclassmen are able to pass this mentality down to the underclassmen.  When underclassmen see an upperclassmen get pulled or subbed – and then see that upperclassmen remaining a part of the event, supportive of their teammates, and oftentimes subbed back in (when conditions change, etc) – they start to believe in 'team first'.  I think lots of other teams think it's strange when all our sailors, including 'extras', get dressed in sailing gear, including their uniforms, at the beginning of an event, regardless of whether or not they are starting.  I think it would be even stranger to go to a [insert ANY sport here] game and watch a bench player scramble to get out of jeans and a sweatshirt and put on their uniform and gear when the coach wants them to go in.  At a regatta, it's kind of tough to have a "next man up" mentality when the next man up is wearing jeans."
Stanford University
Over the past decade, Stanford University has been a staple at the Team Race Championships. Partly true because the Pacific Coast Conference, like the South Atlantic, is relatively less competitive from which to qualify. But such consistency is also due to the fact that year after year, Stanford transforms an impressive pool of sailing talent into team race robots, with the speed, handling and smarts to win the whole thing on any given year.
The type of sailing Stanford delivers on a yearly basis is a byproduct of the prowess of Assistant Coach, Clinton Hayes, a true student of the game. "The fastest team wins," says Hayes, simple as that. Again, this year, Stanford is deep with speed and they still have Mr. Hayes at the whiteboard.
Returners, William Marshall '19, Will La Dow '18 and Jacob Rosenberg '20 with freshman Jack Parkin should be the helmsmen competing this spring. Last year's 7th place finishing team lost only one starter, Reinier Eenkeme Van Dijk.
The United States Naval Academy
The loss of college sailor of the year-finalist, Patrick Snow, and senior Michael Madigan will, by no means, make Navy's quest for the championship in 2017 easier. However, the Midshipmen sailed a cadre of competent sailors who, while led by Snow, are mostly returning. Last year this team was a veteran Team Race squad sailing 2 senior and 2 junior helmsmen at the championship, along with 2 senior crews.
However, this year, Navy again will have a veteran lineup including now senior sailors Gary Prieto, Peter Hogan, juniors Mary Morocco, Ana Mier and sophomore Brittany Slook. The question we all will be looking to answer this spring is who will emerge as the third skipper for this team. Freshman Conor Bayless is a skipper with a lot of potential as well as some team racing experience but is suspended for the beginning of the spring semester because of a rule 2 incident at the Van Duyne men's laser qualifier. Sophomore Max Brill has shown some skill and was present at many MAISA minor team races last year getting some much needed college sailing reps.
Dartmouth College
One of the best team racing units last year, Dartmouth failed to qualify out of the New England Conference (NEISA). Despite being an elite team racing team, this is not unheard of. Many believe Dartmouth, had they qualified through, would have been a final four team.
Unfortunately, this team, with the ideal mix of experience and fire last year, lost much of their experience due to graduation. Robert Floyd, Charles Lalumiere, Madeleine Cooney, Nathaniel Greason and Sophie Kerr all graduated from the Big Green's starting unit. "The 2017 seniors were a special group in terms of commitment and leadership, and they will not be easy to replace," said Justin Assad, Dartmouth Head Coach.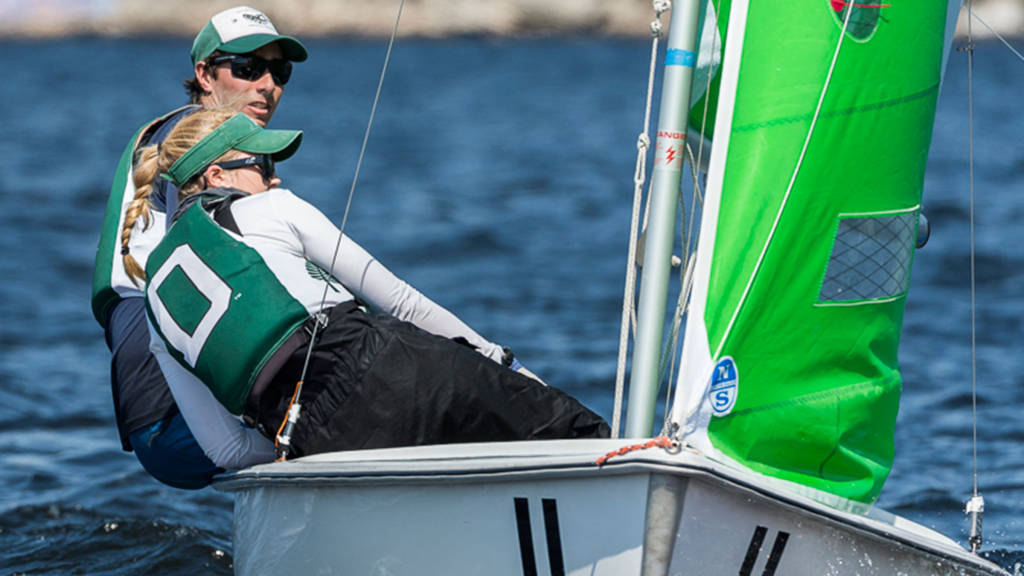 Assad continued, "Our team has values that guide us as teammates, in striving to live those values every practice we will be able to bring the positive team atmosphere that last year's seniors espoused.  In particular, crews Rebecca McElvain, Paige Clarke, and Sophia Diserio, along with Duncan Williford and Erik Weis, will be crucial team leaders this spring.  They understand the special mix of drive, commitment, accountability, and fun that is required for the whole team to perform at the top level, and they will work selflessly to ensure the team is on the same page."
Duncan Williford had a solid season sailing B-Division for the team. The senior is a great leader and clearly has the stuff to compete. "Duncan grew as a teammate and an individual last spring, at the ready to help the team however he could," said Assad. "He has studied the game carefully and will be ready for this spring; with crew Paige Clarke he has superb boathandling and his knowledge and ability to recognize situations will be a big strength."
But perhaps more importantly, Christopher Williford, a junior, has evolved from being a talented youngster to a legitimate college sailor of the year candidate. Williford is one of the fastest helmsmen in the nation. If the replacements to Floyd, Lalumiere, Cooney, Greason and Kerr can learn the game at a similar level, this team will be tough to beat due to senior leadership and the continuing improvement of their emerging star.
Roger Williams University
RWU was a middle of the road team racing team at the start of last season. Much has changed since then. Now senior, Mack Bryan is extremely quick, has a cool demeanor, and his boathandling is second to none. Martim Anderson is an extremely talented sailor and now in his fourth and final year in college, has a really good grip on the intricacies of the game. Finally, Connor Harding has the edge needed when things get tight in a must-win race. Those guys coupled with great crews, a staple of any great Roger Williams team, are primed to make a run late this spring.
"We foster a love of team racing." said Head Coach, Amanda Callahan. "Our top crews learn the nuances of the game in the same way the skippers do, so they anticipate the next moves and they feed the pertinent information which helps with great boat handling and communication."
Seniors, Rebecca Anderson, Michael McBrian and juniors Jennifer Agnell and Halie Repeta will be the crews leading this rendition of great team racing at Roger Williams. This team is suddenly weathered and hard, especially with coaches Amanda Callahan and Colin Merrick, team race legends in their own right, pressing the buttons throughout the season.
They were on the outside looking in after last year's Fowle Trophy, NEISA's conference championship, finishing only 2 losses behind Boston College and a spot at the Championship in Charleston. This experience seemed to have lit a fire under the team.
Throughout the offseason, the starting team got together and sailed several open team race regattas, including the US Sailing Hinman Championship, America's Team Race National Championship. At that event, this team was not "middle of the road" competitive, they were a contender to win the regatta throughout the event.
"In the six week team racing season, top college sailors might get an average of 78 races if they are lucky," continued Callahan. "By competing outside college on the revived summer circuit, they essentially got an entire extra season of racing. And to get good at team racing you have to do a lot of reps."
They have the speed and the grit now to get it done, a year matured. Do not be surprised if this team finishes atop NEISA and end up in the hunt for the championship in late May.
"Our top team's passion for sailing and getting better at sailing has made this the most fun team to coach in my tenure at RWU. None of them had done much team racing before college. They've really worked hard TOGETHER; they are a group who really enjoys being together and you can't force that chemistry. I'm grateful for it."
Old Dominion University
A very young team last year, ODU showed the skill and maturity to sneak in after a competitive Prosser Trophy, the Mid Atlantic Team Race Championship. They are a year older now, a year wiser. A team that finished tied for 9th in the nation, brought back all but one sailor, Gabe Smith. There is little doubt that ODU will be better this year. However, being better does not guarantee an improvement in the standings, it doesn't automatically qualify you for the top-8 and in a conference like the Mid-Atlantic, it doesn't necessarily offer you a seat at the table.
Like NEISA, MAISA is allotted only 4 spots. If Georgetown and HWS take the expected steps towards final-4 caliber status, the young-but-improving teams like ODU, Navy, St. Mary's, George Washington, Cornell and the Merchant Marine Academy will have to battle for just two spots with Georgetown and HWS claiming the top-2 spots in the conference. To emerge from the crowd, a team like ODU will have to continue to improve, take care of business by beating teams who they're better than and take a race or two off of the elite teams.
George Washington University
Do not sleep on the Colonials. This team might not have been anything more than a club team with only aspirations of merely fielding a team race team 5 years ago. Much has changed in the past half-decade. With the work of dedicated alumni, especially Will Ricketson, coach John Pearce to help shepherd them onto the scene, current coach Billy Martin and talent such as Kai Friesecke and Miranda Bakos this team has more than arrived. Expect Kai to lead Andrew Sheerin & Derek Poon-Tip to the brink of qualifying for the national championship. An emerging national contender from MAISA, this team is primed to take the next step.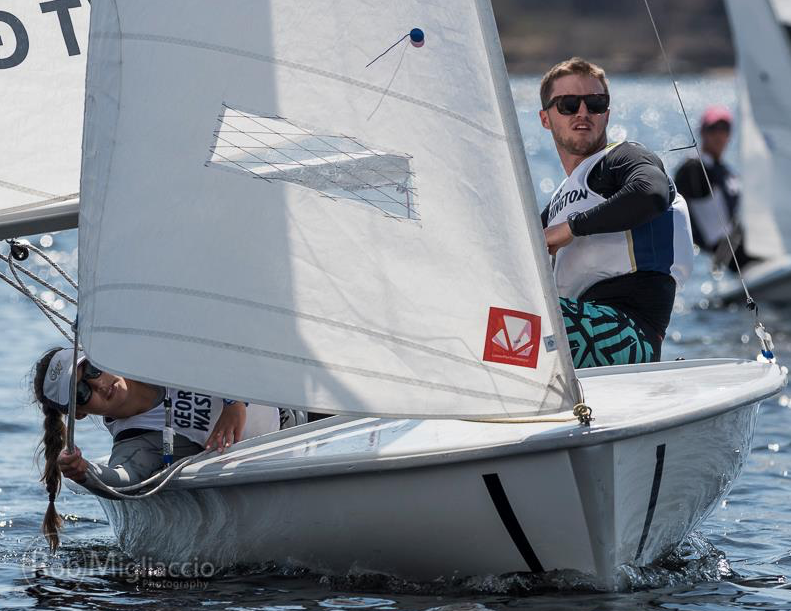 Photo provided by Rob Migliaccio
Massachusetts Institute of Technology
Ty Ingram is really fast. Trevor Long is extremely hard working, his improvement over the past 3 years is inspiring. Both seem like quality fellas and have adopted college sailing's best corinthian spirit and skills. Shameena Shaffeeullah, Marcus Abate and Julia Cho are progressing towards some of the best crews in the nation, especially Ms. Shaffeeullah. This team finished 8th in last year's championship without the help of now clear #2 skipper, Trevor Long, who then was recovering from a concussion. Cutter O'Connell filled in admirably as the team was not only able to qualify out of a stiff NEISA conference, but sail well in the championship. Fully healthy now and better due to the growth of their starting sailors, this team is ready to go. The question for this group seems not to be how will they get there but rather, who will stop them.
Eckerd College
Benefiting from sailing at one of the best venues to team race, Eckerd improved dramatically last season. They will look to continue to improve with goals of making the top-8 next season. The loss of senior Jason D'Aostino, William McKenzie as well as Assistant Coach Zack Marks will not help things. They first must look to fend off a surging University of South Florida and Jacksonville University.
Are there more teams that can, or will contend? You bet there are. Stay tuned for Part II, which will look at seven more teams, mostly riding dark horses, that have a chance to end up on top.
Feel free to post your thoughts in our discussion forum below this article!
ABOUT SAIL1DESIGN
Sail1Design is a grassroots organization, by sailors for sailors, dedicated to the youth, high school, college, and one-design sailing communities. Born in 2007, Sail1Design has grown considerably, and reaches out to all sailors wishing to enjoy and learn more about our sport. We have three main areas of business:
SAILING/MARINE INDUSTRY CAREER CENTER & JOB BOARD
We offer sailing's #1 Career Center and Job Board, always chock full of incredible sailing job opportunities. Our comprehensive career center also offers job seekers the ability to create their own web page, highlighting their experience and posting their resume. Likewise, employers can search our resume database to find the right match for that open position. Sail1Design is proud also to be the official job board of the Intercollegiate Sailing Association (ICSA), the US High School Sailing Association (ISSA), and US Sailing.
MARKETPLACE & PROFESSIONAL BROKERAGE
Unique to the industry, Sail1Design hosts and manages an active private, by-owner marketplace, focusing on performance and one-design sailboats & gear. For all boats under 25′, our ads are free. What makes us different is that we also provide, side-by-side, professional brokerage services as well. We have had great success helping our sailing clients market and sell their boats, using our powerful client base, social media, and the brokerage industries multiple listing service to ensure your boat gets noticed.
AIRWAVES NEWS & CALENDAR
S1D also hosts Airwaves, an interactive, user fed Sailing Calendar and informative Sailing News, Articles, tips, & more. Airwaves has developed a great niche in the sailing publication world, and now boasts a seven-member staff of dedicated sailors, all contributing to our varied content.