Written By Chris Klevan, All Photographs by Colin Grey Voight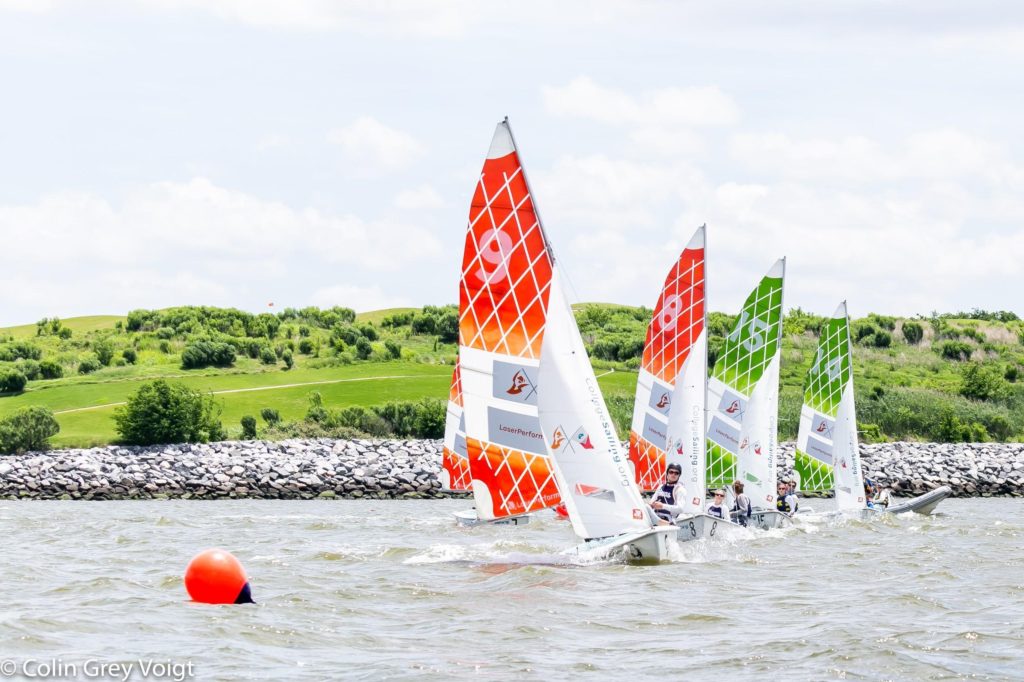 Next in Line:   If fleet racing is a zen-like endeavor where sailors compete mainly against themselves while the opposition is a secondary consideration, team racing is a one-on-one match where your squad must work together in perfect harmony to take down the opponents. It is match racing multiplied by three.
Don't forget to check our out the S1D ICSA Pre-Season Team Race Rankings, complete with coach panel analysis, presented by Dynamic Dollies.
The top team race teams have a star, an elite sailor that has the speed and boat handling to hang with the best and the leadership to boost younger, inexperienced teammates. The final-four teams have two of these stars and a third experienced skipper that has battled along-side the other two drivers at the highest level. The championship caliber teams have the full package. They have a superstar, the have a sneaky speedster, they have a scrappy team racer and 3 or more mechanically sound crews that know where to look and make their drivers omniscient.
The best teams, year after year, however have an institutional wisdom passed down from generation to generation, not facilitated necessarily from the coaching staff, but from alumni skippers and crews that have competed at the highest level and continue to get involved with the team. These practice sessions with the best of yesterday lead to the conversations needed to take a step above the teams who are only just ready now.
That's what we are trying to find in previewing the 2019 Team Race season. This is not a ranking, it is not just a list. This is an in-depth prognostication of the 16 teams that show potential, the 8 who have a leader, the 4 that have two and the teams that have the full package and, therefor a legitimate shot at winning the 2019 Laser Performance Team Race National Championship.
The 2019 Laser Performance College Sailing Team Race National Championship will be held in Newport, Rhode Island, May 25-27.
Part 1 of this series explored how the great teams of last year enter the 2019 season lessened by their previous successes. In order to get to the final four in team racing you must be good and you must be experienced. The numbers don't lie in this case, the best teams had a ton of seniors, most of which started the majority of their careers. The irony of the college game is that once you reach the pinnacle of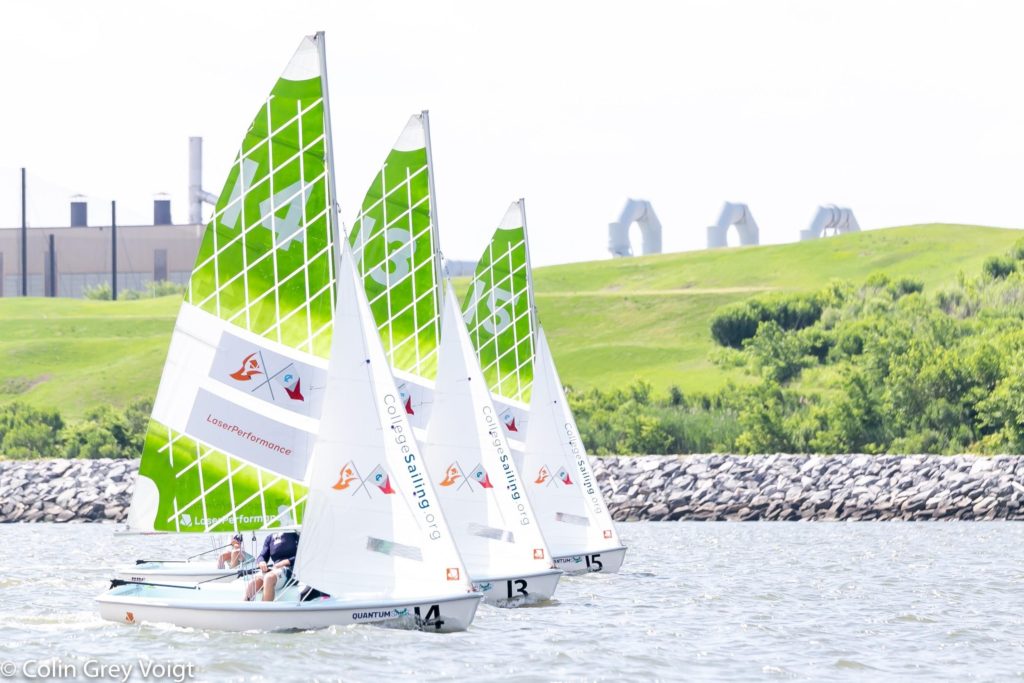 your powers, you are no longer eligible to compete. Half of the sailors who competed in the final four graduated last year. Those who will be tasked at replacing those seniors, by nature, didn't compete often at the highest level. There is a mandatory reset that some years is more prevalent than others. The numbers suggest this year will be a particularly noticeable one. That is, until the names you've never heard of before become the ones that you remember forever. This hard reset presents an opportunity for new heroes to arise; for the role players to step into the spotlight.
The question that will hopefully be answered throughout part 2 is whether that void will be filled by teams that were overlooked, as the nation focused on the top-8 and eventually the final four? Or as part one suggested, will the greatness of yesterday will trickle down as those behind the scenes at practice step up to help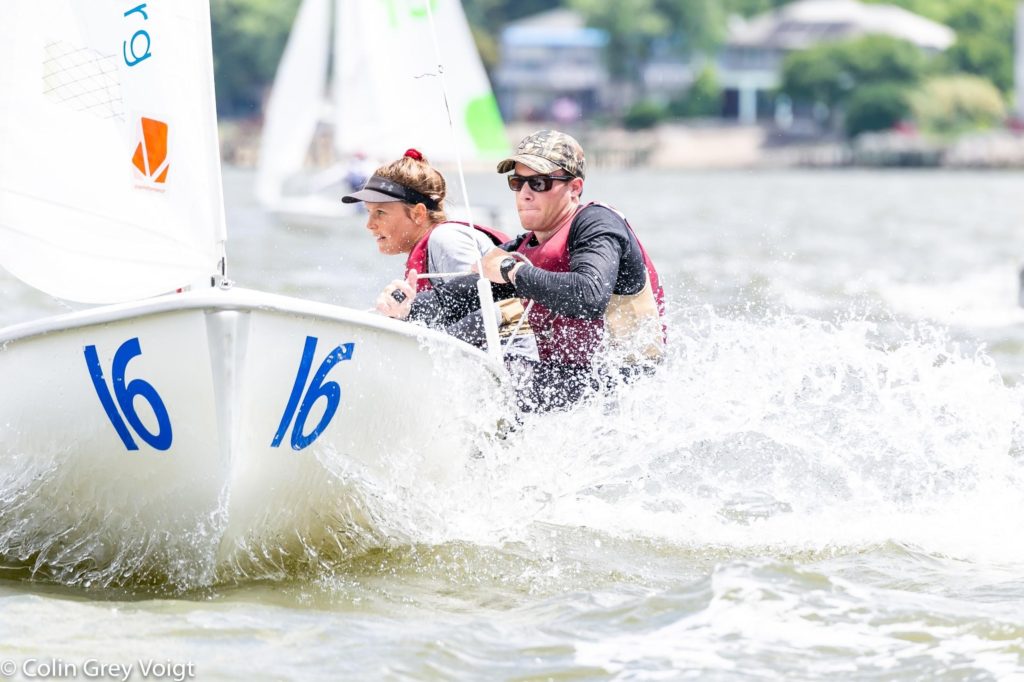 last year's great teams maintain their status as the nation's best.
Boston College lost their best team racer Charles "Scotty" Sinks. Sinks was a Hinman Champion as a freshman and one of the hardest guys to beat one-on-one in the nation. The Eagles are now led by Peter Lynn and Wade Waddell, both senior skippers, along with Emma Perry and Tara Ferraris, the senior crews leading the team from the front of the boat.
Waddell is extremely talented and is slowly coming into his own as one of the nation's best skippers. Lynn is another example of someone who has exceeded expectations and, through hard work and dedication, has become a quality and reliable piece of this year's BC Eagles puzzle. The two senior skippers, coupled with the senior crews, are the known quantities for the Eagles and are who the team will rely on in tough times. However, the growth of the team is contingent on the development of Sophomore, Sophia Reineke.
Reineke has established herself as one of the premier women's skippers in the nation and, last year showed signs of making an early impact on the Coed scene as well. So far this year, in Coed sailing, Ms. Reineke has yet to contribute in quite the same way as she did towards the end of last spring. However, look for that to change quickly as the Spring endows more opportunities in the team race format and, alongside Lynn and Waddell's experience, Reineke's speed will be a huge asset.
Boston College is aways crew rich. This year is no different. Behind seniors Emma Perry and Tara Ferraris are Katherine Bowman and Lauren Seigel, who both put together quality fall seasons sailing primarily with Waddell and Lynn respectively.
The US Naval Academy should not be overlooked. They are almost universally acknowledged as the third best team in the Mid-Atlantic (behind Georgetown and Hobart and William Smith.) This means they should have a clear shot at a national championship berth. In MAISA and NEISA, just getting to nationals is half the battle.
"Making it out of MAISA is always tough and it seems to get harder every year," said Navy Head Coach Ian Burman. "While it won't be easy by any means, we feel that we have a strong team this year and we like our chances."
This Navy team is young but talented, and the added experience gained on the road to the championship is what transforms young but talented sailors to the elite. Parker Loftus '20 and Maxwell Brill '20, who competed alongside graduating first-class, senior sailors Gary Prieto and Peter Hogan last year, will return to help the young talent, Connor Bayless and JC Hermus fill the large shoes left by the two graduating senior skippers.
"We definitely are feeling the effects of graduating a very strong class," said Coach Burman. "We're fortunate to have some real talent that's ready to step up.  We expect returning skippers Parker Loftus and Max Brill to step into leadership roles while Connor Bayless, JC Hermus, Gray Benson, and Nico Gartner compete for starting roles and provide much needed depth.  Having a deep and talented group of crews should help ease the transition into new starting skippers as well."
Like any team sporting the young and the talented, the role of playing spoiler can quickly change throughout the spring season. "We feel that our depth in both skippers and crews will be our greatest asset," finished Burman. Do not sleep on these guys.
Harvard has not been to the Team Race Championship since 2010. "Too long!" said Coach Bern Noack. This year looks to be different for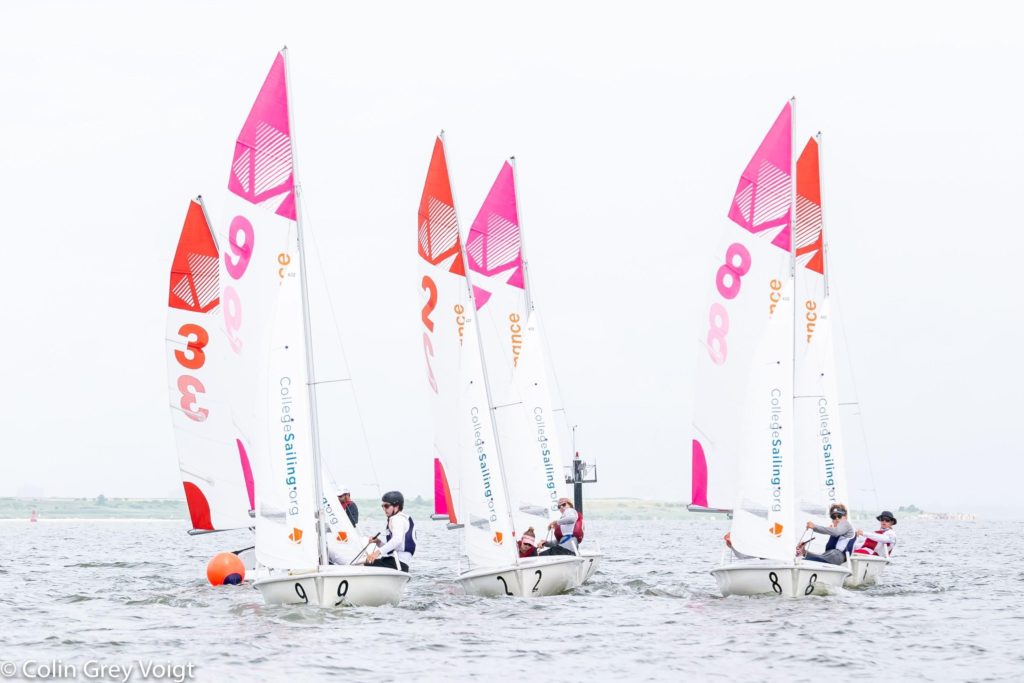 the storied program.
Last year Harvard came as close as a team can be to qualifying. They tied Boston College 1-1 head to head during the first two round robins, losing their first matchup decisively, getting beat by BC in a 1,2,3 finish. In the second race between the two schools, Harvard flipped the script,  winning with a 1,2,3 themselves. The regatta came down to a three-way sail off between Harvard, BC and Connecticut College that continued even after the sun had set.
The final race and tie-breaker between BC and Harvard was an evenly matched nail biter as Harvard and BC exchanged winning combinations up to mark 4. Boston College converted into a solid play two early on the final beat of the race and was able to hold off Harvard throughout the upwind. Boston College went on to prove their mettle at the National Championship, finishing 6th overall. Harvard went home disappointed, maybe devastated, but undoubtedly motivated. They lost two seniors and  leaders, Nick Sertl and Kevin Coakley due to graduation, but returned the majority of their team who all seemed to improve in the Fall.
"We have some great leadership this year from Nick Karnovsky," said Harvard coach Mike O'Connor. "He has a tremendously positive attitude, and he has always been willing to do whatever it takes to help our team improve."
Harvard Coach Bern Noack said of last year's NEISA Championship, "I can only speak for myself. While it was going on I was just busy with the task at hand, trying to give my team the best chance.  It was a bummer afterward as it is easy to pick all these individual moments that could have made the difference but the best approach is to get to be enough better that we are not living on the bubble. The team that sailed this fall worked hard as did the team last spring. Hopefully that will continue."
With the talent of Henry and Eli Burnes coupled with a strong group of now experienced upperclassmen, The Crimson are knocking on the door. The issue is, in New England, it isn't enough just to be good. You must be ready for the big time in April. After a long New England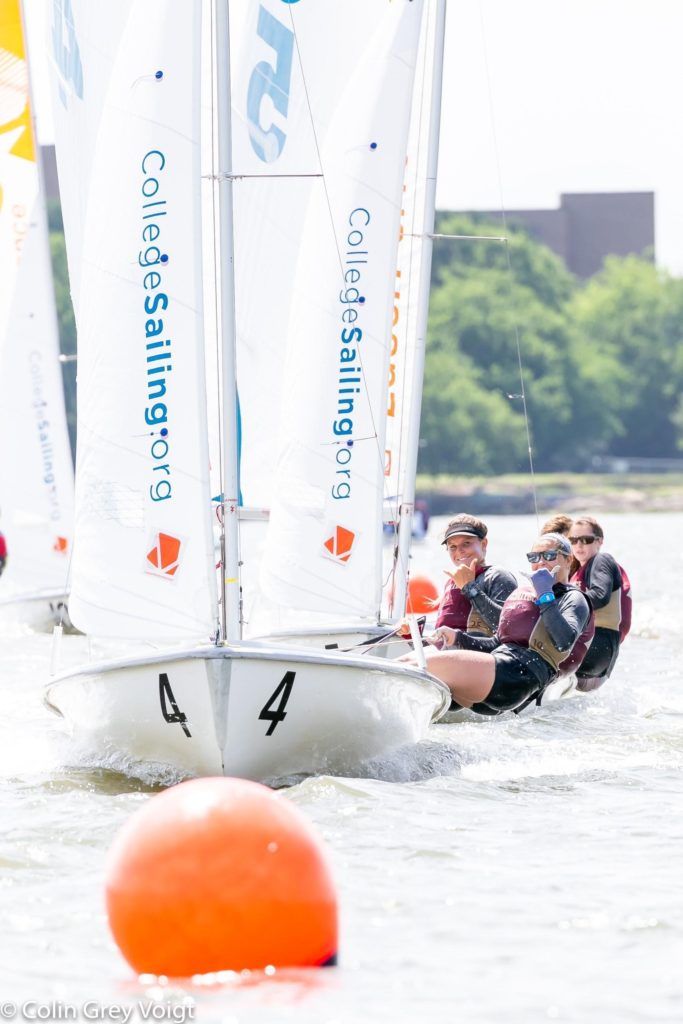 winter, that comes extremely quickly.
"Henry and Eli are working hard, have a good attitude and continue to steadily improve. They fit in really well with our other hard working team members, said Coach Noack. "They, along, with the rest of the team need to keep getting better at everything.  Each year is a race to get better faster than the other teams."
Noack continued to say, "We've been fortunate to have a great group of crews who all learned to sail 4 years ago as frosh, have worked hard for four years, have all gotten really good and have really been the heart of our team over that period. This group includes Catherine Tang, Christine Gosioco, Lena Episalla and Alejandra Resendiz. They along with junior team captain Jessica Williams will be critical to our chances this spring.  We have our work cut out for us next year to develop a new group like them."
Mr. Noack seems to share the view of most of the nation. It has been a while since Harvard was a national power but they are trending in the right direction. This could be their year.
Don't forget to check our out the S1D ICSA Pre-Season Team Race Rankings, complete with coach panel analysis, presented by Dynamic Dollies.
Brown has the talent. They have, arguably, the best women's team in the nation behind Hannah Steadman and Ragna Agerup. Ragna is also Brown's B-division coed skipper as well as our top women's skipper. They have excellent crews. They have one of the five best coed skippers in NEISA Patrick Shannahan. They have all the pieces to succeed.
"We had a good fall fleet racing and we're hoping our fleet racing success will carry into our team racing," said Brown Head Coach John Mollicone. "We have some fast sailors but will have a lot of new faces vying for our 2nd and 3rd team racing spots.  They will have a lot of work to do to be ready for team racing at the top level.  I think we will have the speed and boathandling, but will have to be quick learners at the top team racing level."
What this Brown team has is depth in the speed department. Team Racing is interesting because one boat can only do so much. Getting ahead and staying ahead of this Brown team will be extremely challenging. The NEISA qualifier is at Connecticut College this year. Fast team are never out of a race there.
But those who can do basic math are starting to see an issue here. If you read Part 1 of this series, you would have learned that #1 Yale is the presumptive favorite out of NEISA, if not that nation. You may have also noticed that #4 Bowdoin had probably the best season in program history last fall and is one of the five best fleet race teams in the nation. #10 Roger Williams is always good at team racing, #12 Dartmouth too has consistently been at the top of the ICSA. #9 Boston College is one of the most successful programs around and #8 Harvard seems to be returning to its former glory, not to mention #6 MIT is the reining fleet race champion (it wasn't close), and of course, staying on topic, #5 ranked Brown University
The Sailing World Rankings have 10 NEISA schools in the top-15, the 8 aforementioned teams and #14 Tufts and the #15 US Coast Guard Academy. But only 4 of those 10 teams will be at nationals. That is if #19 Connecticut College or #18 Boston University don't sneak in first…
St. Mary's is known for their team racing. They're typically a fast team with excellent boat handling. But maybe most importantly, the team's institutional knowledge is curated by two of the best coaches and teachers in the game, Bill Ward and Adam Werblow. An uncanny amount of the lineage of success in college team racing traces back to Ward and Werblow.
Ward graduated from Georgetown University in 1996. Current Georgetown Head Coach and Georgetown graduate, Mike Callahan started coaching the following season, '97.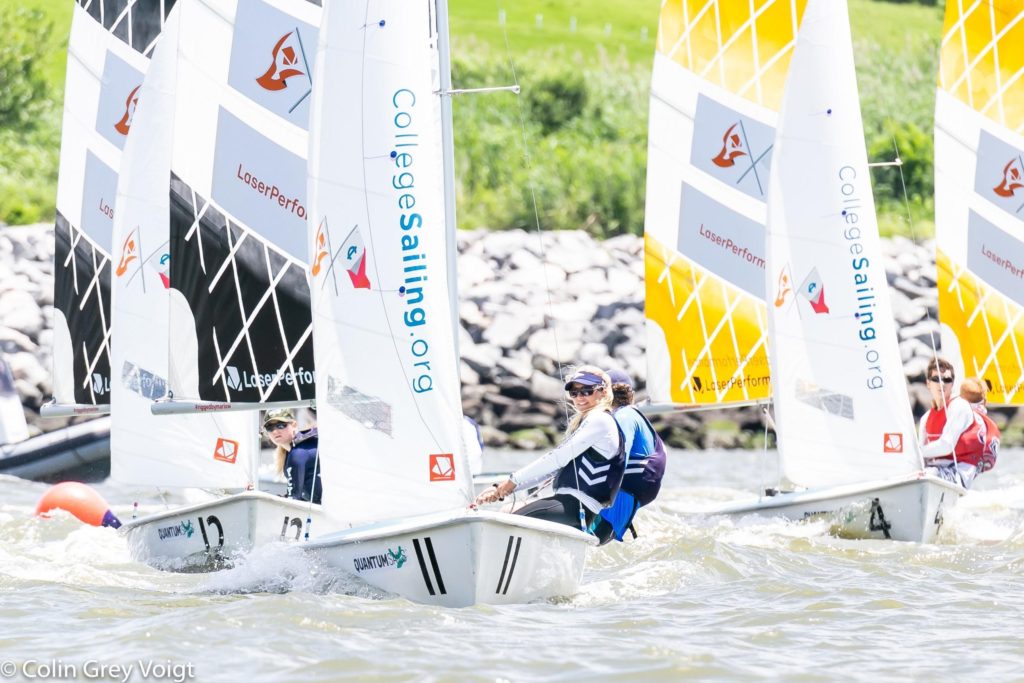 When Yale reached dynastic status with four straight championships, they were coached in part by Zeke Horowitz. Mr. Horowitz won a team race championship as a sailor at College of Charleston in 2012. Horowitz learned the game from Nick Ewenson. Mr. Ewenson won a Team Race Championship as a sailor at St. Mary's in 2004.
Of course, next to Bill Ward always is Waterfront Director and Head Coach, Adam Werblow. Werblow had this to say of this current Seahawks team:
"The 2019 Seahawks have a mix of experienced seniors crews Lydia McPherson-Shambarger, Kate Bjerregaard, Kaisey McCallion and Grace Papp to help our less-seasoned team race helms."
"As a team, we enjoy learning team racing together each year and are excited to help teach younger skippers (such as Katherine Bennett, Gloria Kevlicuite and Leo Boucher).   Ashley Wagner turned in a great performance at Dinghy Nationals last year in B division and is looking forward to immersing herself into team racing this time around."
"We had a strong finish to the Fall: led by skippers Liam McCarthy and Chase Cooper in dinghies and Leo Boucher in Lasers. The team was especially proud of Liam, Kate and Kaisey's performance winning A division at the War Memorial.  Liam is like a lot of past Seahawks in that he is a cerebral competitor who loves being on the water on almost any platform."
The MAISA Team Race Championship, the Prosser Trophy will qualify four teams to the National Championship and is to be hosted at St. Mary's this year. Expect the St. Mary's  Seahawks to sail well on home waters where perfect team race conditions favor the perpetually quick and sharp Seahawks.
MIT, the defending Gill Coed National Champions, is somehow underrated, again. There is some logic behind that. They lost two thirds of their starting team race drivers, Cutter O'Connell and national A-Division winner, Ty Ingram. "It's impossible to replace Ty and unfortunately, the MIT cloning labs have strict ethical standards, believe me I've inquired," said MIT Head Coach Matt Lindblad. "But, every team is it's own unique entity and even if we had Ty, and our other seniors Greta and Cutter, back again this year, we would be a different team this year with a new set of challenges, personalities, ups and downs, etc."
Lindblad continued to say:
"Ty was a one in a million athlete who dedicated himself to sailing with more passion than anyone I've ever experienced. Ty also had some of the most brutal disappointments at qualifiers in some ways beyond his control, including illness and several times getting unfairly and unreasonably penalized while exonerating himself for fouls. His resiliency is one of the most inspiring things I've been a part of and seeing him go out on top was hugely gratifying, no one deserved it more than Ty. Our whole team was fortunate to have Ty as a daily reminder of what true commitment looks like. It's a huge loss but also an opportunity for others to look hard at themselves and find a way to make the sacrifices required to lead the team in that same way."
Even with last year's championship team they weren't quite good enough to qualify as one of the four team race bids NEISA is allotted. Last year, they were one race shy of turning the three team sail-off into a four team showdown. Had they managed to tie for the final spot in the NEISA qualifier, they would have had as good of a shot as any team. But they didn't, and Boston College qualified with the 4th and final NEISA spot.
However, the Engineers of MIT rebounded quite well to say the least. Not even two months after that disappointing finish they won the coed fleet race national championship by nearly 60 points, winning both divisions handily.
"I think the teams that tend to have the most success year in and year out have a process that that allows them to tune out the distractions and have fun doing the work day in and day out," said Lindblad.
They still have the bulk of the sailors that put together that brilliant effort. And, maybe more importantly, they still have the crews. Sameena Shaffeeullah is a senior now and clearly is one of the best crews in the nation. She now sails primarily with Ivan Stestopalov, who, with help from Shaffeeullah has emerged as a solid skipper. Stestopalov will be a key to MIT's team racing success this spring, expect Shaffeeullah to make him look good if she's in the front of his boat.
"Crews are definitely a strength right now and a great blend of experienced sailors and walk-ons, all with tons of passion, athleticism, and drive," continued Mr. Lindblad. "On the coed side, Sameena Shaffeeullah has a huge challenge transitioning from the smooth and well drilled partnership she had with Ty to a sophomore skipper with lots of potential but also lots to learn to adjust to the way the college game is played. Julia Cho, Marcus Abate, and John Ped are all awesome athletes, passionate about sailing and the team success. Kaila Pfrang and Fiona McKellar add depth and will figure into our plan in various important roles as will several others who are developing quickly."
The final campaign for All-Americans and team leaders, Trevor Long and Shaffeeullah, coupled with growth of those just outside the limelight last year and the tutelage of Lindblad, a 2-time Hinman Champion and Team Race World Champion himself could be enough to tilt the scales of the Engineers. Mr. Lindblad finished by saying:
"The biggest wins I was a part of were the Hinman in '03 and '04 and the World Championships in Newport, RI in 2005. Yes, I think about those teams as well as the successful teams I was a part of at St. Mary's all the time. I am so fortunate to have been a part of those groups and have had such amazing experiences with those people and learned so much about the sport, competition, and myself from those people and experiences. One of my biggest motivations as a coach is that our team members are creating a lifetime of positive experiences, of hard work, overcoming obstacles, learning about themselves and others and about how to win and lose in this silly sport. The sailing specific things I learned from all of those teams are that preparation, commitment, attention to detail, practicing the little stuff, and keeping positive personal and team attitudes are some of the biggest challenges over the long term but essential to success."
Don't forget to check our out the S1D ICSA Pre-Season Team Race Rankings, complete with coach panel analysis, presented by Dynamic Dollies.
Connecticut College was the third team in the three-team sail off that concluded last year's NEISA Team Race Championship. Boston College won the sail-off and advanced as the fourth team out of NEISA. A lot of people overlooked Conn last year, but throughout the year the team learned how to sail with each other. They were scrappy and proved to be a good example of why team racing is a very different discipline from fleet racing. Working together, their three boats were hard to put away.
However, half of their starting team last year, Hugh MacGillivray, Walter Florio and Albert "Sam" Rodiger, have graduated. "We will miss our seniors Hugh, Walter and Sam," Said Head Coach Jeff Bresnahan. "We have started the rebuilding process and have had one of the best recruiting classes we have ever had in my 28 years here at Conn. Adding sailors that have team raced at a high level in High School has helped us fill our graduated sailors spots and having a second competitive team has made practice in the fall very productive."
What remains from last year's team is Carter Pemberton, Gwynie Dunlevy and Cecilia Moreira. Though that seems like a lot of holes, freshman, Thomas Whittemore is slippery quick and is learning the game under Pemberton. It was Pemberton's development last year that changed everything for the Camels. Expect Pemberton to come back even better this spring and if Whittemore can make even half the gains Pemberton made as a young college sailor, this team will still be quite feisty.
Whitlemore is just one of a solid freshman class. Expect head coach Jeff Bresnahan to get more out of the youngsters than critics expect.
"The Connecticut College Camels are excited to start the 2019 Team Racing Season," Mr. Bresnahan continued to say:
"Last year we ended up in a Sail off with BC and Harvard for the Final spot at the NE Championship. Our Team racing Team will be Lead by Junior Captain Carter Pemberton, Freshman CJ McKenna, Tommy Whittemore and Gordon Gurnell will fill the other 2 spots. Walter Henry and Will Beford will see time.  In the Fall Junior Katie Rodgers and Sophomore Liz Davis rotated through our boats, as Juniors  Paige Dunleavy and Cecilia Moreira where studying abroad. Having all 4 back and available to sail will help our young drivers. Junior Carter Pemberton has emerged as a top level College Sailor a great leader to our young Team. Pemberton is doing a great job getting our new squad of Freshman drivers ready for the Spring. He has taken an active approach in getting them ready and explaining that College Team Racing is not HS Sailing, everyone is good and you have to sail as a team to win in college."
George Washington University finished 8th in last year's national championship, but they maintain the majority of their starting skippers in Andrew Sheeran and Derek Poon Tip, who will have to step up to lead this team in, graduating senior, Kai Friesecke's absence. GW lost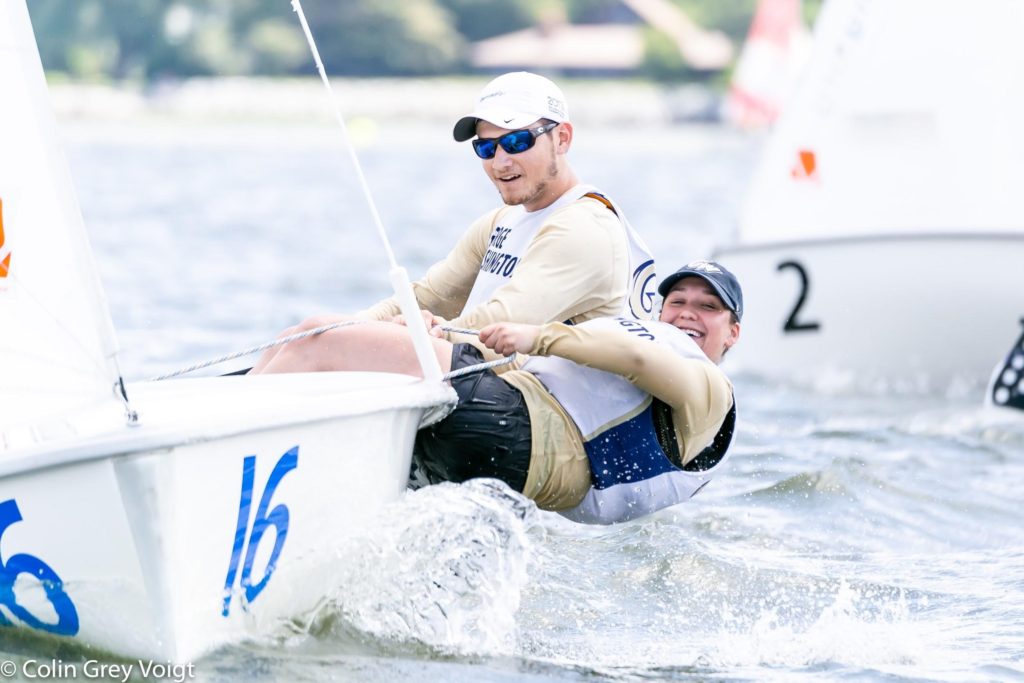 4 great crews due to graduation; only seniors filled the front of GW boats throughout last year's team race national championship.
How the Colonials replace such a dramatic loss of crews, including one of the best in the nation, Miranda Bakos, will dictate their spring season. If those waiting in the wings last year step up to the same level, expect the Colonials to return to the big dance.
Head Coach Billy Martin had the following to say about the upcoming team race season and the void left by the Colonial's strong 2018 graduating class:
"The GW Sailing team takes pride in it's depth and this spring is the deepest team I've been apart of yet," said Head Coach Billy Martin. "We learned from last year that team racing is so much more than six sailors on the water. At 36 sailors, we have a number of crews and skippers who will be competing for starting jobs all spring. We will miss the four senior crew we had last year, but building crew depth was an emphasis of ours in the fall. I expect Andrew Sheerin and Derek Poon-Tip to carry over a lot of experience and leadership from last year. I expect them to start again this spring, but they will be challenged by a number of great skippers."
Look for freshman, Matt Logue to make a push for the third team race spot on this team. While expecting a freshman to be able to hang with the big dogs on the college team racing scene might be unrealistic, he definitely has the potential to, with continued improvement from Poon-Tip and Sheeran to cover at least the loss of Friesecke.
Others: It would be slightly irresponsible to end without mentioning a couple more teams. The South-Atlantic Conference, SAISA gets 2 berths to team race nationals and, due to the lack of depth seen south of Virginia, the Cougars of College of Charleston always qualify for the big dance. They also always represent their conference well. They're the two-time defending team race national champions. The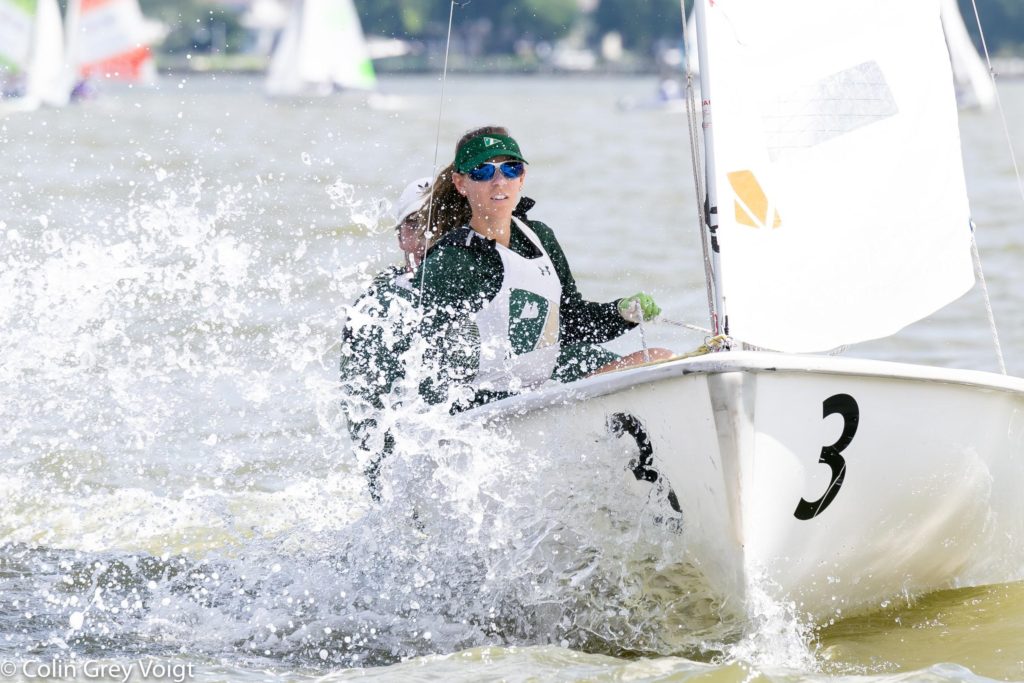 second team from SAISA is historically less certain. Last year's other representative, University of South Florida, finished 12th with a 4-11 record. The four teams they beat had a combined record of 10-49. USF lost six of the 11 sailors competing in that event due to graduation. It seems safe to say that the door is open for the likes of Jacksonville, who seem to add to their talent each successive year.
Last year we saw Cornell qualify for their first Team Race National Championship in program history, shocking the status quo and taking down expected players like Navy and St. Mary's. That team exemplified what college sailing is all about. They were an experienced team composed on mainly upper-classmen. Though, this year they might take a half step back back, last year was a sign of good things to come for the Big Red.
UC Santa Barbara benefits from a similar situation as Jacksonville, Eckerd and USF see in SAISA. The difference is, while those three SAISA teams battle each other for the second and final spot allotted to their conference, UCSB is currently far better than the rest of the PCCSC. In fact, they're the reigning PCCSC conference champion- something that most of the nation has overlooked. They beat the PCCSC darlings, Stanford while The Cardinal was sailing their top team. It is just one regatta, but Lucas Pierce, Samantha Obel, David Eastwood and Clair Hunt are clearly gifted sailors. It is unclear how they'll develop between now and May. but don't be surprised if they take some races at the championship. They definitely will be there to do so.
Texas A&M has represented the Southeastern Conference, SEISA, every year since 2013 at least. The Laser Team Race Nationals have only been published on Techscore since 2013. It is unclear how to find team race regatta results pre-2013. The 2012 regatta homepage "cannot be reached" by my computer. Only Boston College, Yale, Georgetown, Charleston, Stanford and Wisconsin have similar streaks in appearances. However, the Texas A&M Aggies have compiled only 6 wins over those 6 championships since 2012. They have 82 losses over the same span. Given that statistic, it does not seem out of the question that Tulane, now led by new Head Coach, Charles Higgins could take down the Aggies.
Like Texas A&M, Wisconsin is always at Team Race Nationals. However, the hierarchy in the MCSA does not seem primed for an usurper in the same way that SEISA does. Wisconsin still has Charlie Kutschenreuter and a cadre of returning crews. Expect Wisco to make the show.