Gdynia, Poland, 21 JULY 2019 — Team USA finished 3rd overall in the World Youth Sailing Nation's Cup (same finish position for our World Optimist Team this year too), and earned one Gold Medal in the nine-fleet event, held in Poland this year. Gold came for the USA in the Girls 420 fleet, where Maddie Hawkins & Yumi Yoshiyasu won the regatta with a race to spare. Text below from World Youth Sailing Website: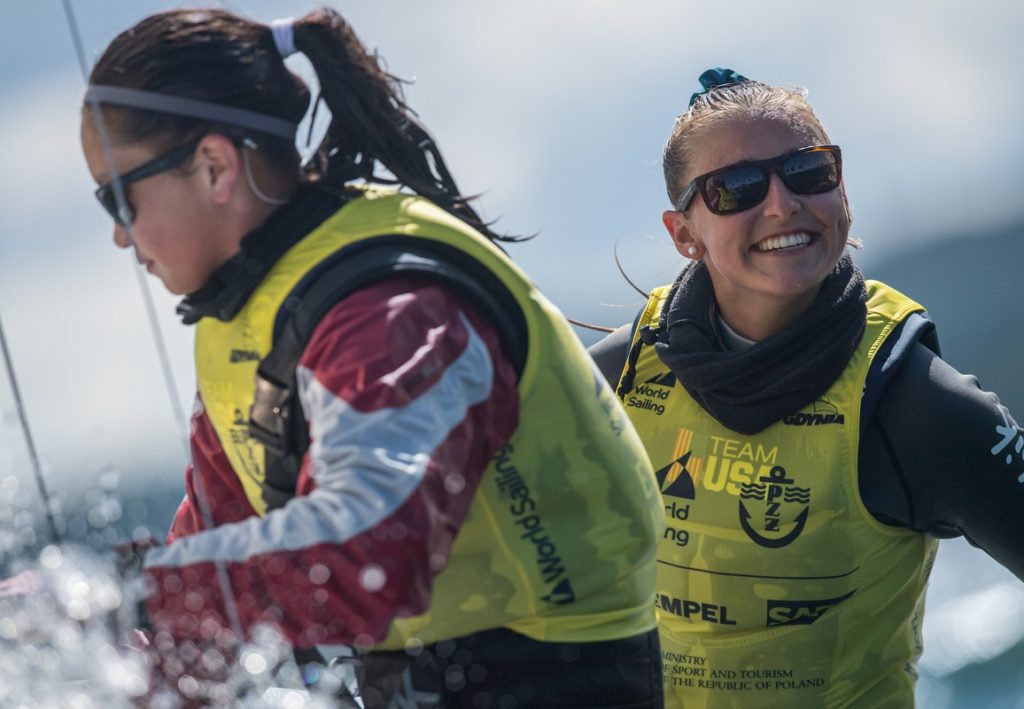 So, the Girl's 420 perpetual RYA Trophy will head to the USA for the third consecutive year after Hawkins and Yoshiyasu picked up from where Carmen and Emma Cowles left off.
Consistency was king for the Americas and going into Friday their lead stands at 22-points. As their highest score is a seventh, they cannot be caught so will walk away as champions.
"We were crying on the way in," the pair said enthusiastically, "We're really happy. We're just going to go out tomorrow and have a solid race but it doesn't matter because gold is wrapped up."
They recorded a fourth and a fifth from their two races which was in their game plan. Hawkins commented, "Honestly we were going out there with a mindset to get top seven finishes. That's all we really needed. We just made sure we could chip off boats and weren't getting stressed about not being in first or being in 15th. We wanted to be as consistent as possible."
Full Results HERE
Also, Berta Puig and Bella Cassaretto turned in an incredible performance to take the Girls 29er Gold medal! Text below from World Youth Sailing Website:
On their victory, the Americans said, "It's pretty amazing. Having got silver last year, we came back and brought that experience here to get gold. We worked hard all year to get here and it feels really nice to get what we wanted to accomplished. 
"It was a lot of work last year. We did a great job of improving throughout but this year we got on top early on. We got a better hold of our tactics and we worked really hard on our tracks and we studied the rest of the fleet and it was very helpful for us."
Here is how our American team finished in all 9 fleets:
420 Girls:  GOLD!
420 Boys: 6th
29er Boys: 9th
29er Girls:  GOLD!
Nacra 15: 9th
Laser Radial Boys: 4th
Laser Radial Girls: 21st
RSX Boys: 16th
RSX Girls: 17th
Nations Cup: Bronze
Full Results HERE