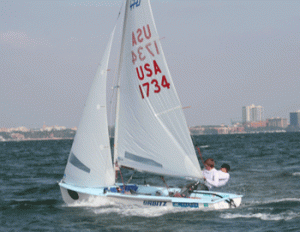 From www.470.org:
It is a popular class of dinghy, offering a good introduction to high-performance boats without being excessively difficult to handle. It has a large sail-area-to-weight ratio and is designed to plane easily. Most sailors get substantial experience in a more stable and less demanding dinghy before beginning the 470.
The International 470 Class was awarded International Status by the International Yacht Racing Union (now World Sailing) in 1969 and it has been an Olympic class since first featuring at the Montreal Olympics in 1976. Used as Olympic equipment since 1976, where the class was sailed as an open event before the introduction of separate events for men and women in 1988, the 470 is the boat currently used for both the men's two person and women's two person dinghy events at the Olympic Games and is sailed in more than 60 nations around the world. In 1988 the first ever Olympic women's sailing event was sailed in the 470, as the first step in increasing the number of women competing at the Olympic Games.
A strict one design class, the 470 has proved its pedigree as an Olympic class, being a high performance sailing dinghy suitable for body weights from all continents and performing across a wide range of weather conditions. Across the 11 Olympic Games in which the 470 Class has been raced, 20 different nations have secured Olympic medals in the men's and women's events, demonstrating the depth of participation and talent.
The International 470 Class is responsible for the organization and administration of the 470 Class around the world. With 23% of the athletes at the 2020 Olympic Games competing in the 470 Class, the Class is committed to ensuring their interests and the broader interests of 470 sailing are represented and to encouraging, promoting and developing the 470 Class throughout the world.
The 470 is equipped with spinnaker and trapeze, making teamwork necessary to sail it well. The 470 is not difficult to sail, but to be competitive everything should be mastered and tuned to perfection. Tactically the boat is demanding because speed differences are small and fleets are usually big. The 470 is often quoted as the most challenging, dynamic and thrilling to sail of the boats at the Olympics. The boat can be sailed competitively in a wide range of wind and sea conditions, covering the full range of Olympic sailing conditions.
loa 14'7"
beam 5'6"
sail area 137 ft²
spinnaker area 140 ft²
hull weight 264
crew 2
# of boats built not known
active US fleets MD, FL, CA, MA, CT, RI, VA, NY
For more information please visit this class associations website:
http://www.470.org/
US 470 Class Website:  https://470usa.org/