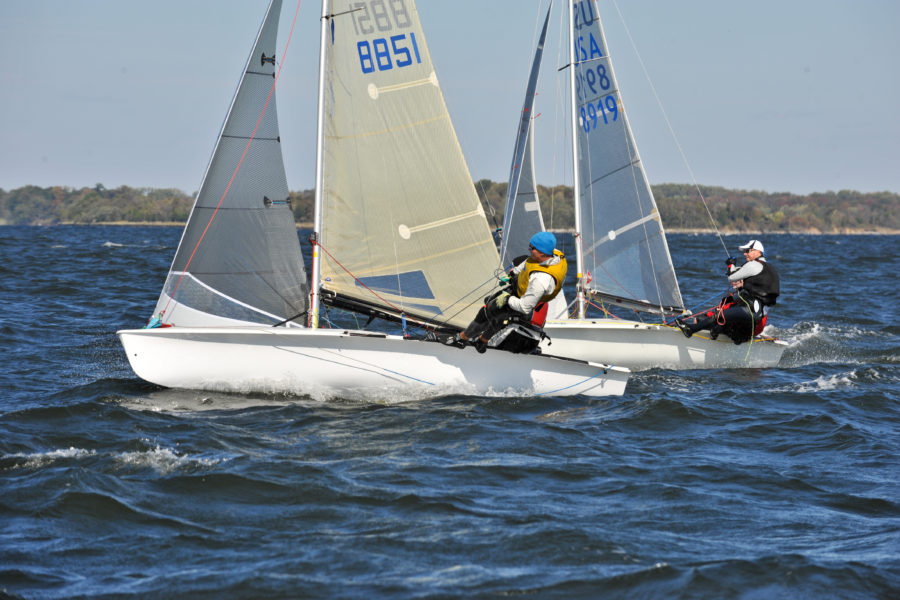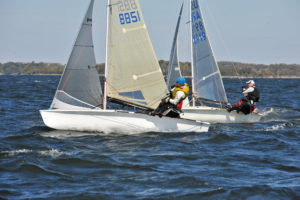 Originally launched in 1953, the 5o5 has withstood the test of time and is considered by many to be the best performing high performance planing dinghy ever built. This international class routinely attracts the world's best sailors, and world championship events, held annually, almost always attract over 100 boats. A physically demanding single trapeze boat, the 5o5 rewards sailors who are smart, in shape, and love to tune. The boat offers those "who like to tinker" almost unlimited opportunities. The class rules, while strict, are fewer in number than most one design  classes, allowing different foil and hull designs, mast sections,  etc. Most all of the top sailors still go the same speed though, and that speed is fast.
The 5o5 class is wonderful, but not for those on a tight budget. New boats are expensive and maintenance is not on the low end.
loa 16.5'
beam 6'2"
sail area 151 ft²
spinnaker area 280 ft²
hull weight 281 lbs.
crew 2
# of boats built 9,000
active US fleets MD, FL, CA, MA, CT, RI, VA, NY
From the 505 class page:
Hulls are built using the best materials and craftsmanship available including fiberglass, Kevlar and carbon fiber laminates and fully cored construction. This results in boats that last decades, not years. The best quality boats built with honeycomb core and epoxy resins have a competitive life of over 30 years! For this reason, there are many older used boats that can still compete at the highest level.
In addition to great local and regional racing, the American Section hosts three major championships each year: East Coast Championships, Pacific Coast Championships, and North American Championships (in conjunction with the Canadian 505 Class). The marquee event for the 505 Class is the annual open World Championships which consistently draws 100-180+ boats!
Please explore the website and learn more about what the 505 Class has to offer. The best way to go for a test sail or to find out more information is to contact your local
Fleet Captain
. If you can sail a laser, you can have a whole lot more fun sailing a 505!
For more information please visit this class associations website:
http://www.usa505.org/