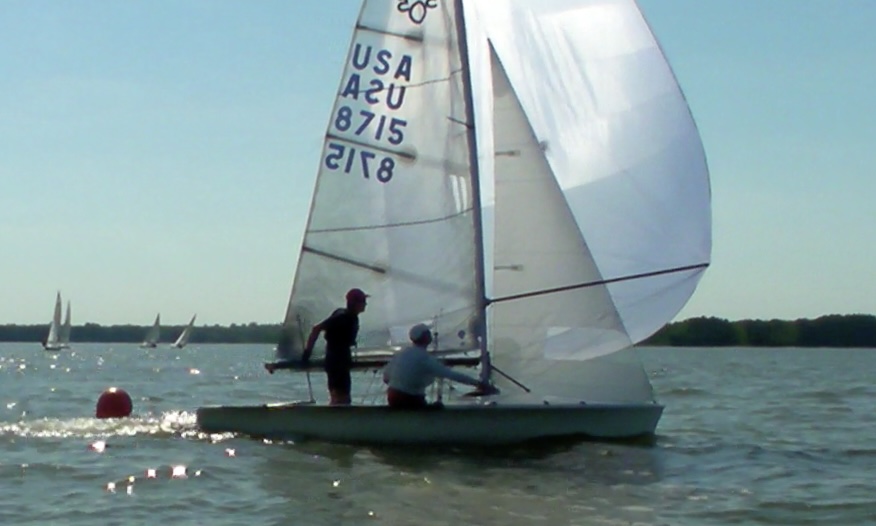 2021 505 East Coast Championship, West River Sailing Club, May 20-23
A small but very competitive fleet met at West River Sailing Club in Galesville, MD for the 2021 East Coast Championships. The two-time World Champ (and West Coast interloper) team of Mike Holt and Carl Smit, in their first outing in their newly acquired "East Coast boat" faced off against former World Champ Ethan Bixby sailing with Chris Brady, and former North American Champs Mike Zani and Peter Alarie, back sailing together after a 25 year hiatus.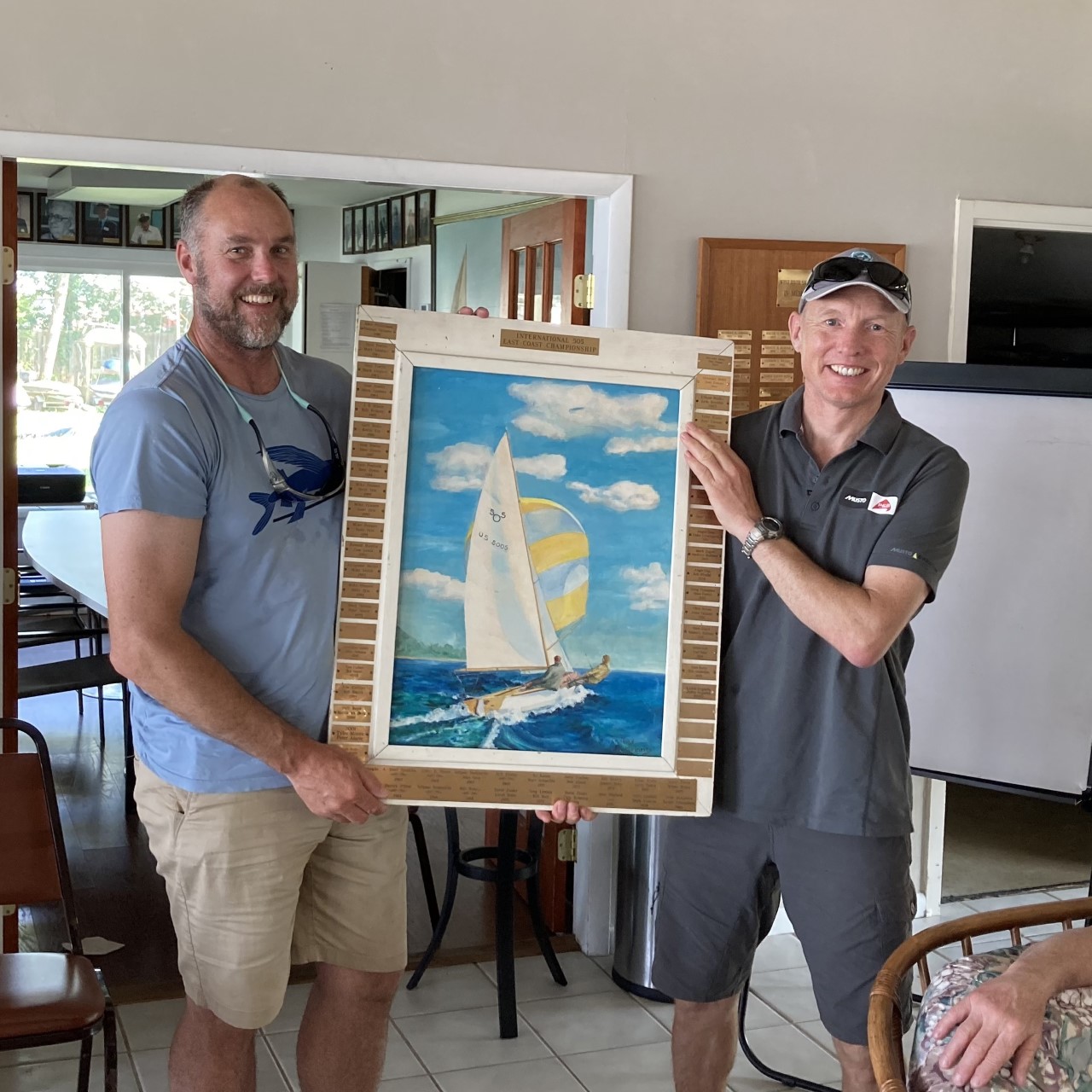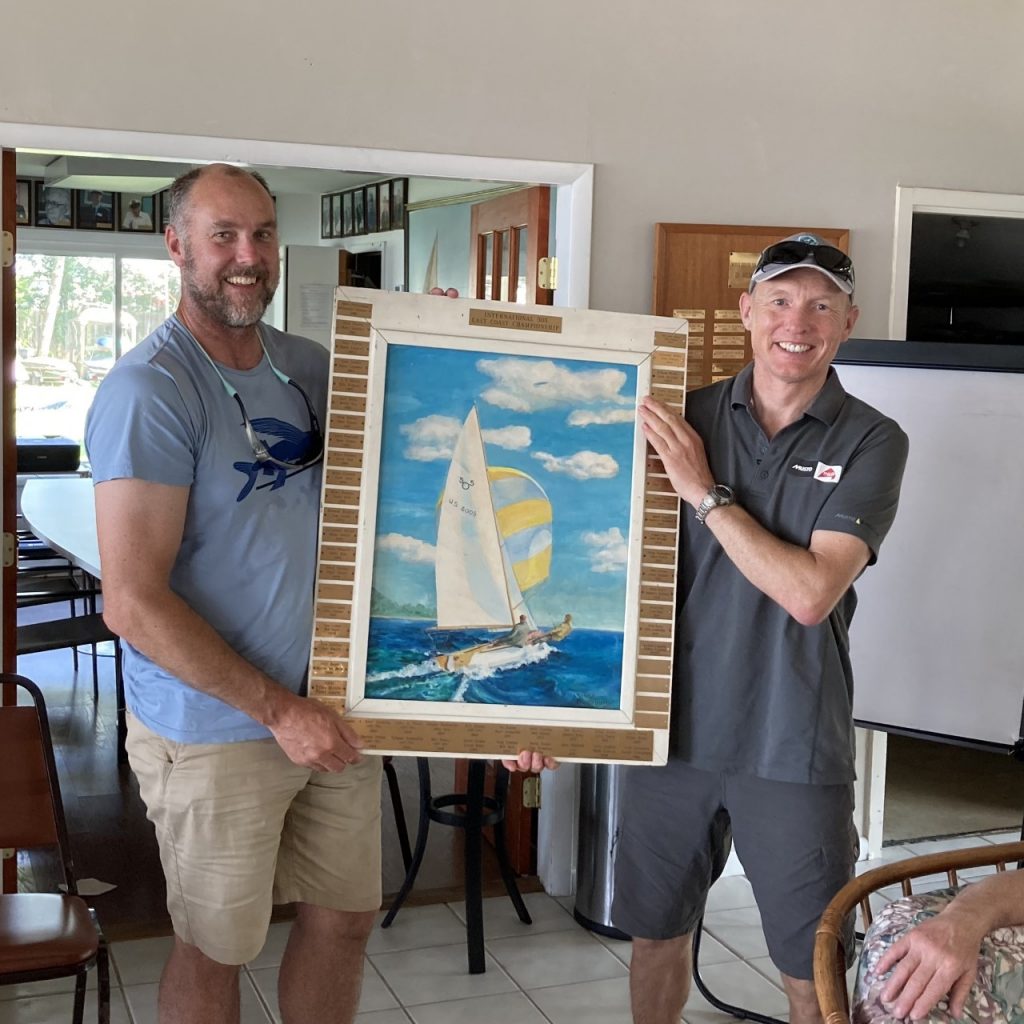 Regatta PRO Heidi Bay and her team set Day 1 up on WRSC's middle course in a light southeasterly. With the top mark against a point headland and multiple current streams across the course, the boats that decided "right is right" started off strongly, with Holt and Smit taking a solid lead despite their West Coast crew weight.
One of the unique features of the 505 Class is daily debriefs after each day of racing, with the day's best boats openly sharing insights on the day's difference makers. Holt and Smit preached patience and letting the boat respond to changes in pressure as one of their top keys from the day, and teams had an immediate opportunity to implement this technique the next day.
Day 2 featured a wildly shifting westerly on the inside course. Locals Barney Harris and RJ Bay rallied to second overall on the back of a 1-2 day, with Holt and Smit suffering a rare off day to spend most of their lead. Zani/Alarie and Bixby/Brady had consistent finishes to create a 4 way battle at the top of the leader board, with other teams coming into contention as well.
Sunday's fresher WNW breeze sent the fleet to the outside course for more classic open water 505 sailing. Inconsistent pressure and big shifts made for interesting racing that awarded decisive and aggressive strategy. Zani and Alarie made their best play for the series win, scoring 1-1-3 on the day, closely followed by Bixby/Brady with 2-2-2. Holt and Smit, however, did just enough to hold on to a 1 point series lead.
The next stop for the fleet is the Wickford Regatta in RI on June 5&6. The Class will be hosting its 2021 North American Championship in Newport this fall, so expect to see a bunch of teams getting an early look at Narragansett Bay 505 conditions.
Pos,Sail, Boat, Skipper, Yacht Club, Results, Total Points
1. 9072, Carl Smit, Carl Smit, Carl Smit, 2-1-3-2-3-[7]-3-4-1- ; 19
2. 8965, Quahog, Mike Zani, Tiverton YC, [8]-2-5-1-4-3-1-1-3- ; 20
3. USA 8715, Pressure Drop, Ethan Bixby, SPSC, [6]-4-1-5-5-1-2-2-2- ; 22
4. USA 8643, 10% for the Big Guy, Barney Harris, WRSC & PRSA, 1-7-6-4-1-2-[9]-7-6- ; 34
5. 9165, Boaty Mcboatface, Curtis Hartmann, Eastport YC/WRSC, 5-3-2-7-6-4-[8]-8-5- ; 40
6. 8951, Toxic Masculinity, David Kirkpatrick, Sail Newport, [9]-6-8-3-2-5-7-3-8- ; 42
7. 8930, 8930, Duane Delfosse, LSYC, 7-[9]-9-9-7-6-5-6-4- ; 53
8. 8883, Jane's Addiction, Michael Renda, WRSC, 3-5-7-8-8-10-11-10-[16/DNF]- ; 62
9. 8814, Sojourner, Lin Robson, SPSC, 4-8-10-6-10-11-6-9-[16/DNF]- ; 64
10. USA 9041, Bench Mark, Henry Amthor, Hampton YC, [16/DNS]-16/DNS-16/DNS-16/DNS-11-8-4-5-7- ; 83
11. 8767, Anbu B Team, Matthew Breton, WRSC, 10-10-4-10-9-9-[16/DNS]-16/DNS-16/DNS- ; 84
12. 90951, , Robert Hoffman, WRSC, [16/DNS]-16/DNS-16/DNS-16/DNS-12-12-10-11-9- ; 102
13. USA 9095, Highway 95 Revisited, G Nelson, West River, [16/DNS]-16/DNS-16/DNS-16/DNS-16/DNS-16/DNS-16/DNS-16/DNS-16/DNS- ; 128T
14. 9139, Wild Thing, Jackson Montague, WRSC, [16/DNS]-16/DNS-16/DNS-16/DNS-16/DNS-16/DNS-16/DNS-16/DNS-16/DNS- ; 128T
15. 8987, Lookadatla, Peter Scannell, monkstown bay sailing club, [16/DNS]-16/DNS-16/DNS-16/DNS-16/DNS-16/DNS-16/DNS-16/DNS-16/DNS- ; 128T