By Rachael Silverstein
Since the first inter-collegiate dinghy fleet race in 1930, small boats and fast racing have become a healthy addiction for young sailors across the country. In 1934, Princeton developed the Tiger dinghy, which expanded college racing along the east coast. More recently, schools have tried the Vanguard 15, Tech Dinghy, Firefly, and Lark as their chosen double-handed boat, but the Club 420 and Club FJ have taken over the scene. A wide array of classes has been tried and tested through the generations of college sailors and many will follow, but some teams have held onto their boats and don't intend to let go.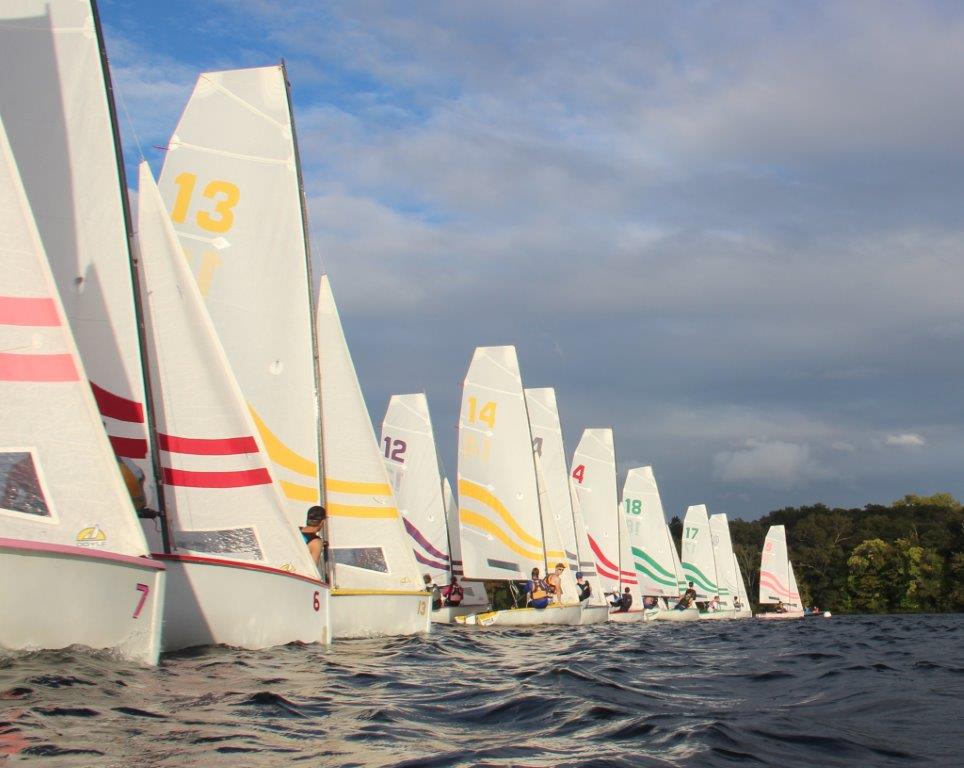 As the sport grows on the collegiate level, there is a push to find a boat that meets the specific needs of a competitive college dinghy. For Ken Legler, Head Coach of Tufts University Sailing Team, the college dinghy decision is easy. When asked why he devoutly chooses a new fleet of Larks decade after decade of coaching Tufts, he declares, "primarily because sailing is supposed to be fun."
In 1972, Tufts traded in the Wee Nips, a single-sail vessel similar to Tech Dinghies, for a fleet of Larks, and hasn't looked back. The team has sailed through five fleets of Larks, and is making room for their sixth by Spring 2016. Larks, primarily built in England, were more difficult to purchase and maintain than their mainstream counterparts—420's and FJ's. For their new fleet, the Jumbos teamed up with Whitecap Composites of Peabody, MA to undertake Lark construction with a more "institutional use in mind." Legler works closely with Whitecap on a design to "improve durability and make repairs easier."

Although Tufts sailors aren't training in FJ's and 420's, the team's long history of racing success does not suggest that practicing in Larks is hurting them in any way. Legler explains, "Larks are different, at least a little, from FJ's and 420's, just as those two classes are different from each other. There are small technical differences in how the sails are trimmed… The Lark is the same size as the 420 and FJ, and as such we are training the right sized people. It is more stable than an FJ, but less stable than a 420." To make up for those differences, Legler enters his team into regattas every weekend, "at all levels, including club events, for our new crews to train muscle memory for sailing FJ's and 420's."
When the sailors are practicing at home, Larks keep the sailing on Mystic Lake exciting."The boats have an incredible feel to the helm and to the acceleration," Legler describes, "the deep and narrow blades allow for instant sharp turns for team racing and other tactics. The light rig allows for dynamic mast movement for even faster maneuvers." Racing doesn't slow down when the wind lightens up, either. "Larks are very easily driven in light air due to the long, narrow waterline allowing good racing in winds as low as one knot, which is not the case in club dinghies," he admits. The boats can sail as fast as the wind in up to six knots and plane as easily as a Laser, making it an ideal boat for sailing on Mystic Lake.

Whether the Lark will catch on as a popular college dinghy is uncertain, but they are waiting for willing sailors at the Bacow Sailing Pavilion. Legler labels this class as boats that "are rewarding when sailed well and unforgiving when not sailed well." He believes that college sailing should be done for love of the sport, and provides his sailors with a fleet that is fun and challenging to sail. The way Coach Ken Legler sees it, "if college sailing is part of the education and part of the whole college experience for student sailors, then there is no better boat to enjoy the aesthetics, the healthy outdoor exercise, the camaraderie, and the challenges of friendly competition."