Written by Chris Klevan
The Women of Brown University stay atop women's sailing in winning the Jen Harris Women's Showcase Finals.
Brown University won the Jen Harris Women's Showcase Finals held at the US Naval Academy in what was a truncated, 20 race event due to lack of wind. The Brown Bears showed their depth throughout the event as they were the only team to place in the top-4 in both the A and B Divisions.
Brown is the reigning Women's National Champion, winning last year's main event in big breeze at home in Newport, RI. However, after this victory, at what is the equivalent of the Atlantic Coast Championship in medium to light conditions, Brown proved they are still the team to beat in all conditions.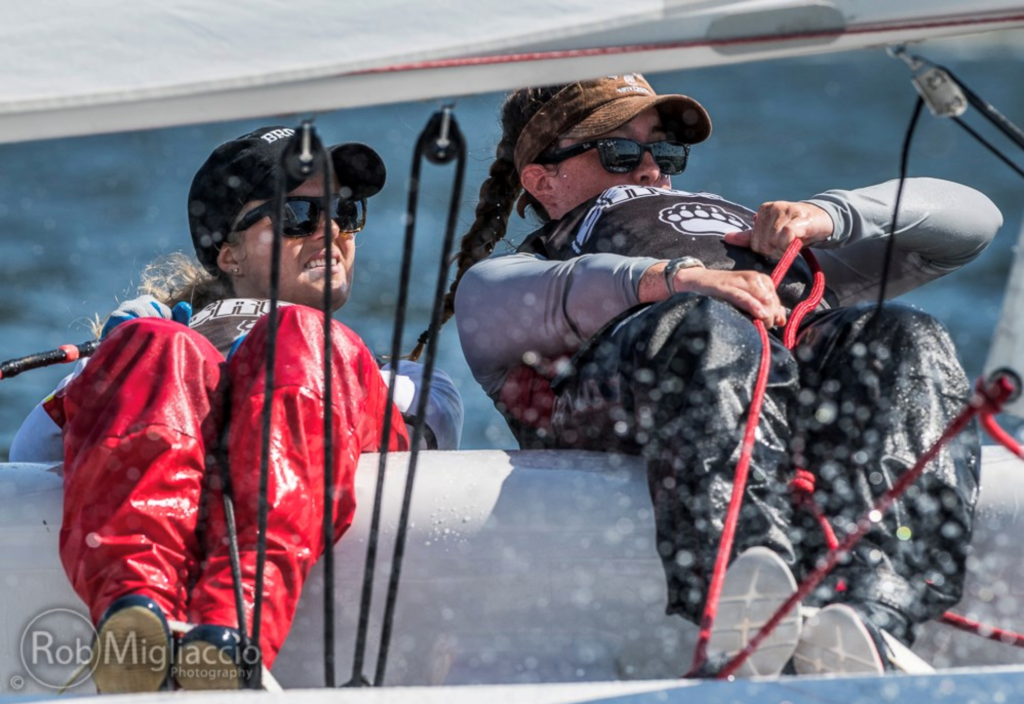 The reigning Quantum Women's College Sailor of the Year, Ragna Agerup '20, sailing with Julia Reynolds finished 4th in A-Division with 68 points. The tandem had only two blemishes, finishing 12th in the first race sailed and 13th in the final race of the regatta. A-Division last weekend is one of the most competitive fleets in memory as all three finalists for last year's Women's Sailor of the Year were present- Ali Toppa '20 finished 5th, 2 points behind Agerup and Louisa Nordstrom finished 10th with 91 points.
In B-Division Brown's Hannah Steadman '20 and Annabelle Hutchinson '21 hung close enough to Yale's Chrissy Klingler '20 and Sonia Lingos-Utley '21 to cement the win for Brown. Yale finished second, only 12 points behind the Bears. Like Agerup and Reynolds, Steadman and Hutchinson only had two blemishes to their scoreline, scoring one 12 and one 8. Besides those two races the Bears scored exclusively top-5 finishes. Klingler and Lingos-Utley of Yale were impressive, winning the division by 11 points with 6 of the 10 races sailed in the top-3.
"We are fortunate to have a really special and talented group of female sailors and a lot of women's depth," said Brown's Head Coach, John Mollicone.
"We had two top of A-division level boats sailing at Navy and they are sailing coed A-level events as well," continued Coach Mollicone. "This has really helped them on the starting line and their starts have been much improved from this time last year.  They sailed in the lighter, choppier conditions at Navy last weekend as well at the Truxton Umstead/Showcase Qualifier and knew what to expect at the Women's Showcase Finals.  We have been trying to get faster in these conditions as there are a lot of strong women's teams in the light to moderate stuff."
"We have some incredible crews with 2019 All-American Crew Julia Reynolds '21 sailing with Ragna Agerup '20 and Two-time All-NEISA Women's Crew Annabelle Hutchinson '21 sailing with Hannah Steadman '20.  Emma Montgomery '22 did not sail at Navy but was a huge part of the National Championship win last year sailing with both Ragna and Hannah for many of the races.  We have also integrated freshman Caroline Bayless '23 into the mix as a crew for some events.   There's not much to say to them on weekends from a coaching standpoint and they make it easy for us – they do their jobs really well in the boat and are the ultimate team players in every way."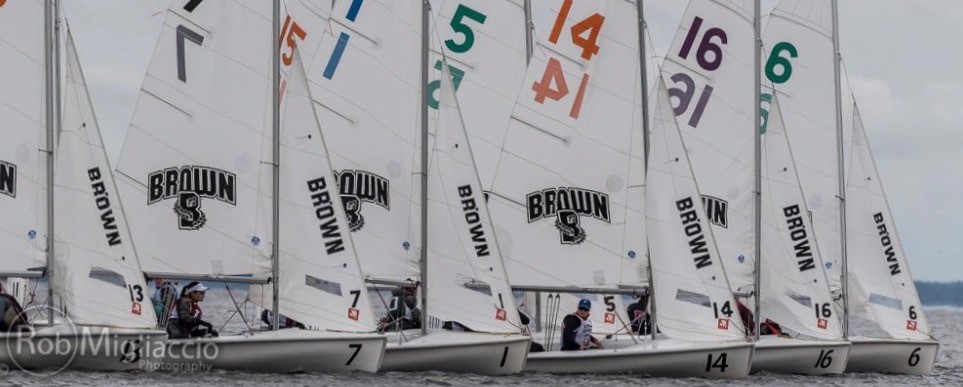 The Regatta's A-Division winning skipper was a rookie from Stanford, Michelle Lahrkamp, sailing with Sammy Pickell '22. A notably green boat in a fleet of veterans and champions, the Cardinal duo were unflappable. Lahrkamp was the only first year sailor  in the fleet. Pickell was one of a handful of underclassmen, though she's one of the best in the nation despite her sophomore status. Pickell and Lahrkamp showed their poise and maturity as they were the only A-Division boat without a double digit score to their name. Lahrkamp and Pickell's effort was enough for an 18 point margin of victory in the toughest division seen yet this year, the second win of Lahrkamp's young career after she won A-Division at the Stu Nelson by 30 points.
Brown had 114 points, Yale was second with 126 and Harvard was third with 135.