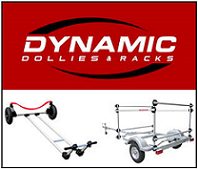 Brought to you by Dynamic Dollies
It has begun! Fast paced play changes, precise boat handling, a little bit of yelling, and lots of team work; finally, the team race season is here.  There have been four team race regattas since our preview two weeks ago, the Mendelblatt at USF, McIntyre at Stanford, GW Team Race at you guessed it, GW, and the most competitive event, the Bob Bavier at College of Charleston.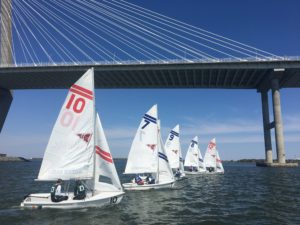 Hannah Baylis Photo
The Bob is a major event every year since it is the first major Interconference regatta.  Teams love going to Charleston for this event because, well its Charleston, which means beautiful weather to allow for tons of racing.  This year however, the Bob drew even more excitement since College of Charleston will be the host of this year's Spring ICSA National Championships.  Teams competing at the Bob last weekend got to sail in the location where nationals will be hosted, with the Team Race Nationals PRO Ryan Davidson, and some of the same umpires too.
This week our coach panel ranked their top 15 teams in the country, and gave us some comments on the teams, their results and progress so far this season.  Hope you enjoy!
| | | |
| --- | --- | --- |
| Rank | School | Total Points |
| 1 | Yale | 73 |
| 2 | Charleston | 69 |
| 3 | Georgetown | 65 |
| 4 | Boston College | 63 |
| 5 | Navy | 55 |
| 6 | Dartmouth | 49 |
| 7 | Hobart William Smith | 38 |
| 8 | George Washington | 38 |
| 9 | UC Santa Barbara | 35 |
| 10 | MIT | 32 |
| 11 | Stanford | 29 |
| 12 | Tufts | 16 |
| 13 | St. Mary's | 16 |
| 14 | Roger Williams | 9 |
| 15 | Eckerd | 8 |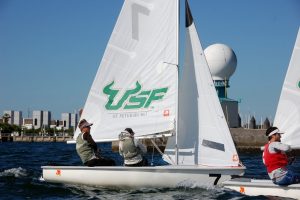 Coaches who participated in the poll: Ken Legler (Tufts), Bill Healy (Yale), Clinton Hayes (Stanford), Johnny Norfleet (Fordham), Dillon Paiva (Navy)

Augustine Haile photo
| | | | | | | |
| --- | --- | --- | --- | --- | --- | --- |
| Rank | School | Ken | Bill | Clinton | Johnny | Dillon |
| 1 | Yale | First team race not until the Graham Hall but no reason not to rank the reigning champs #1. | No action yet and won't have any until the Graham Hall TR in two weeks.  Time will tell… | Clear #1 going into the season. Too far ahead in the preseason rankings to drop them for not competing last weekend. | Untested but still the best team out there until proven otherwise | Even though their first regatta isn't until the graham hall, still have a tough time finding a reason not to rank #1. |
| 2 | Charleston | Cougars off to a fast start as usual winning at home with two seniors and four juniors. | Cougars take the first Big Team Race regatta on their home waters and earn my #1 spot. | Impressive and, for me, unexpected win at the Bavier. Probably should have expected a good performance on their home turf. | A big win at the Bob at home. The home field advantage for this team will be a factor at nationals | As I said in my preview, deadly in home waters. Excited to see them play at St. Mary's this weekend.  Congrats on win at the Bob. |
| 3 | Georgetown | Hoyas only a point behind Charleston at the Bob but with none of their superstar freshmen yet. | A good battle at the Bavier with Charleston moves the Hoyas up the rankings. | Close 2nd to Charleston last weekend. I'd expect them to improve a lot this season with a very strong 2nd team to train against. | Solid finish at the Bob with their team of upperclassmen. They almost certainly have the best 2nd team in the nation. Expect them to play with a lot of combos at the John Jackson this weekend. | I put them above charleston, and move into the spot as most likely to knock Yale off the throne.  One win behind CofC at the Bob, and their second team had a very strong showing at the GW Team Race to make for some killer home practices. |
| 4 | BC | Eagles first team race will be at St. Mary's but they scrimmaged at Brown on Sunday. | Again no early Tr action from the Eagles.  They'll be in action at arguably the toughest TR of the year at St. Mary's. | Tough choice to place the Eagles since they haven't sail yet. Not as stacked as Yale to rank them 2nd but they stay in my top 4 for sure. | Still untested until this weekend but looking good with a team of three experienced skippers | First regatta of the season for the Eagles this weekend. I'm looking forward to see their first test. |
| 5 | Navy | 3rd at the Bob with a couple new players Peter Hogan/Sarah Barkley where they struggled against the Florida teams but beat Dartmouth twice. | Couldn't hang with Charleston at the Bavier TR last weekend but did sail pretty evenly with Georgetown. | Jumping Dartmouth in the 1st real rankings here. They're looking good early on. | 3rd at the Bob keeps them in the top 5 | Only team in the final four at the Bob to use more than three drivers.  Still building depth and discipline. |
| 6 | Dartmouth | The Green were rusty early, then won a bunch to make the final four but finished 0-3 in the finals.  Their winning streak was when there was more wind. | Bavier was a good warm up for Dartmouth.  Round one was "shake the rust off" round, round two was much better and the final 4 not what they were looking for. | Good result coming off zero practice. This confirms they'll be a player this year. | Barely made the final four at the Bob Bavier but did so with freshman Jack McGraw. Expect them to be stronger later either with Pat Floyd returning or their younger players learning the game. | Fourth at the Bob is good, but no regattas this coming weekend when most schools are at one regatta at least.  Home practice to stay sharp? |
| 7 | HWS | Legit freshmen Hector Guzman teamed with veterans to win the George Washington TR. | Good win for this group at the GW Team Race | Strong win at the GW Team Race. Need to see how they'll sail against the beat though… | Got the win at the GW Team Race and look strong with Freshman skipper Hector Guzman, but they did lose two races to Fordham | Strong win at a MAISA event, I think their skills will be up to the challenge at the St. Mary's Team Race this weekend. |
| 8 | GW | 5th at the Bob; I told you they would be good. | | 5th is a good results to start their season | A strong early showing at the Bob for the Colonials have them looking like a strong nationals contender in MAISA | Lost the tiebreaker to make it into the final four at the bob, but sailed quite well up until that point. Also finished fourth at their home MAISA event. |
| 9 | UCSB | Beating Stanford at Stanford to win the McIntyre was huge for the Gauchos. | Still ranked pretty high from their win at the MacIntyre TR two weeks ago at Stanford, beating Stanford | 2 awesome weekends in a row beating Stanford then placing 6th in Charleston. They make my top 10! | A veteran team of skippers suddenly looking good after a win at the McIntyre | Impressive win over Stanford at the McIntyre, and shook it up at the Bob for sure.  Glad to see more than one strong player from the west coast. |
| 10 | MIT | The Engineers open at home and at neighboring Harvard in two events this weekend. | This group of sailors will be the team to watch to pick off some of these top team. | Another New England team who hasn't started their season yet. They look good on paper. | Another untested team still in the rankings for now based on their fleet racing prowess | Still haven't seen them play yet but plenty of practice partners on the Charles, and some very fast sailors. |
| 11 | Stanford | Lost a tie-break to Santa Barbara by a wide margin and will be challenged at St. Mary's next. | Still untested outside the Pacific Coast. Next action at the St Mary's TR.  This regatta will tell a lot. | With a loss to Santa Barbara at the McIntyre 2 weekends ago they slip a little in my rankings | Losing races to UCSB early may not look good but it means they will have more in conference competition | Lost to UCSB on tiebreaker at their home event, but will make it to the east coast more often I bet.  Not long before they get back on top of their game. |
| 12 | Tufts | The Jumbos are just getting their feet wet early with their first big test at the Graham Hall. | Coach ken will get the Jumbos on track.  No action yet. Not Until the Graham Hall in two weeks | Good results in fleet racing this fall. Interested to see how things shake out in team racing | Rounding out my top 10 based on fleet race results and a NEISA Championship on Mystic Lake | |
| 13 | St. Mary's | The Seahawks have struggled early but they get to host this weekend. | Three Senior skippers need to pick it up to get this team through to the conference qualifier | Bound in improve as the season goes on. They always do… | Also still figuring out their top three boats. A decent result at the Bob considering what they lost to graduation. Give them time. | Respectable finish at the Bob, but surprised to see their second team last at the GW Team Race.  Uncharacteristic for St. Mary's, but plenty of time to bring it around. |
| 14 | Roger | The Hawks get to race at the St. Mary's TR and are psyched for it. | No action yet.  Not until in district action in two weeks.  Last weeks event was blown and frozen out. | Still haven't seen them yet but they show promise and are always well coached | | First regatta will be this weekend at St. Mary's.  With a multi world champion team racer as coach, expect disciplined execution. |
| 15 | Eckerd | | 8th at the Bavier shows this team has potential | Beat USF in Charleston to take my last spot | The Tritons are looking good with some wins over strong teams at the Bob. Looking like it will be a fight for the 2nd SAISA spot for nationals | Took some big wins early at the Bob to turn heads, but faded towards the end.  With plenty of warm weather and good coaching, don't be surprised to see this team moving up. |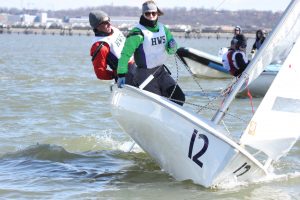 Larry Kennedy photo