Ida Lewis Yacht Club is a family oriented club of members who actively participate in yachting activities. Our mission is to foster excellence in yachting and yacht racing with an emphasis on traditions, sportsmanship, education and camaraderie.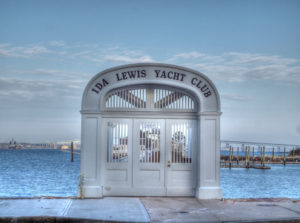 ILYC is hiring a Junior Sailing Program Director. This position is a full-time salaried position (approximately 40 hrs/wk) from mid-June to mid-August. The position is also salaried part-time from mid-August to mid-June with an average of 8 hours offsite per month to prepare for the season ahead. Sailing classes run for 8 consecutive weeks and the Program Director will be responsible for one week of setup prior to classes beginning and one week of breakdown after classes end. For more information, and to apply, CLICK HERE.
The Ida Lewis Yacht Club derives its name from the nationally famous daughter of the keeper of the Lime Rock Light on the southern side of Newport's inner harbor.
The Lime Rocks are a series of limestone ledges located approximately 900 feet from shore. They were at one time noted for the quality of their lime used by Newport's builders. In the 1850s the Lighthouse Service decided to place a light on the largest rock and in 1853 they completed a tower with a rough shed or "sentry box" which later did duty as a washroom. Here the keeper found shelter when forced by foul weather to stay on the rock. His family lived ashore. Three years later the Newport Mercury reported, "One would suppose that there was hardly room to swing a cat on the Lime Rocks and yet a spot large enough has been found for a commodious two story brick house with ample space in front…with a walk leading to the lighthouse and the little beach where the keeper hauls his boat." This house, which has weathered several hurricanes, is now the Clubhouse of the Ida Lewis Yacht Club.
The first keeper was the half brother of Ida Lewis. A few months later he turned the position over to his father, Hosea Lewis, who kept it during his lifetime aided by his daughter. On his death, Ida became the keeper until her death in 1911. As early as 1869, she was famous as a one-woman life boat station. Up to and including that year, she had made so many daring rescues from the waters of Newport Harbor that she was written up extensively in Harpers Weekly, The New York Tribune, and many other publications including a book entitled Ida Lewis, Heroine of Lime Rock. She was constantly compared with the English lighthouse keeper's daughter, Grace Darling, who made her reputation in one daring rescue.
Ida Lewis is officially credited with saving eighteen lives and unofficially several others. The burgee of the Yacht Club that bears her name has a blue lighthouse with eighteen white stars arranged in a cross representing the number of lives she saved. A beautiful clinker-built pulling boat was paid for by public subscription and presented to Ida Lewis in the summer of 1869. This boat with many other Ida Lewis items, including the lamp and lens tended by her, are on exhibition in the Marine Museum of the Newport Historical Society.


In the mid 1920s, all but a small piece of the Lime Rock, used by the Lighthouse Service for the light tower, was sold to the "Narragansett Bay Regatta Association." This was made up of a group of yachtsmen interested in preserving the now historic house, as well as creating a yacht club and landing for the excellent anchorage in Brenton Cove. In 1928 they officially organized under the name Ida Lewis Yacht Club. (ANSWER TO ILYC TRIVIA QUESTION:  $7,200 was paid for Ida Lewis Light House and all of Lime Rock, Per 'Keeper of Lime Rock' by Lenore Skomal)  This is listed in 1929 for the first time among Newport's clubs. The first Commodore was Arthur Curtiss James, owner of the auxiliary bark "Aloha." The Vice Commodore was Marion Eppley.
A wooden walkway was built to the Lime Rocks and the lighthouse, which became the Clubhouse. Ida lewis is perhaps the smallest major yacht club, but at times one of the busiest. Floats and ramps were built to accommodate tenders and sailing dinghies. The Clubhouse is attractively furnished, which makes up for its size. Before the New York Yacht Club had its Newport station at Harbor Court, the Ida Lewis Yacht Club offered its facilities as a station and the burgee of the New York Yacht Club flew on an auxiliary flag pole.
C. P. B.Jefferys*
Newport Historical Society
*C. P. Beauchamp ("Cham") Jefferys died on 18 February 1980 at the age of 82. He was during his lifetime an active, well-loved, and well-respected teacher, historian, and yachtsman who devotedly served the Ida Lewis Yacht Club for many years.