By Airwaves writer Tyler Colvin
The past couple decades has seen rapid growth in the numbers of athletes participating in college sailing.  In that time the level of sailing has increased exponentially.  It could be argued that ICSA Team Race Nationals is the most competitive event in North America on an annual basis.  The numbers of high-level post-graduate sailors has increased accordingly.  Several boats have arisen to fill the need for a competitive dinghy, such as the V15, however none have had any kind of permanent lasting power.  Enter the Z15, the new post-collegiate performance dinghy in the US market from Zim Sailing.  A technical boat with advanced rig and hull design characteristics, the Z15 looks to fill a gaping hole in the lives of recent graduates.
The Boat: Technically Sound
Not content with simply remaking the wheel and redesigning existing boats, Zim looked to veteran dinghy builder Steve Clark for inspiration using modern technology and hull designs.  At 14'9" long with a beam of 5'5", the Z15 is slightly longer and wider than an FJ while trimming over 30lbs for a hull weight of 180lbs thanks to the fully cored resin infused construction process.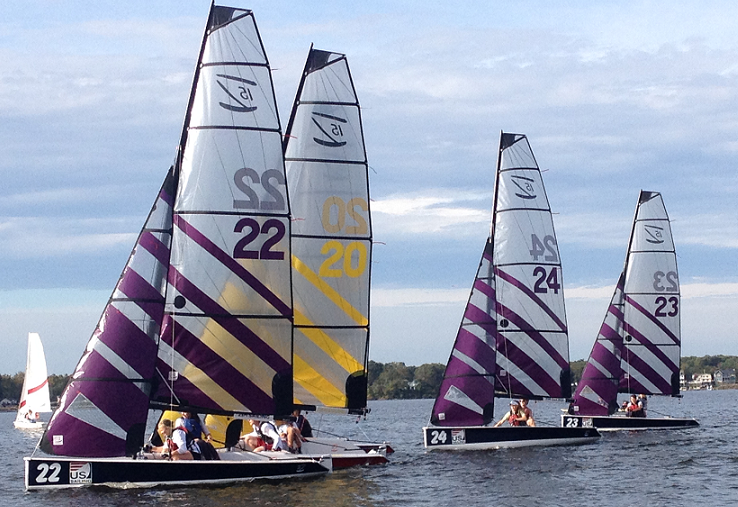 The rig is an update on traditional construction as well.  A fully carbon, tapered rig from Southern Spars is fully adjustable and provides a healthy amount of power and eliminating the need for a third (spinnaker/gennaker) sail off the wind.  Designed with a wide range of weights and skill levels in mind, the rig is easily depowered for breezy conditions.
Set Up and Sailing: Quick
Thomas Sitzmann, head coach of the Severn School sailing team and previously of Bowdoin College has brought the Z15 to high school sailing in Maryland.  On the Z15, "It's not the same old thing. It can out-sail most dinghies in 3-4 knots, and will definitely perform well in more wind. So, I'd say I enjoy the fact that it is bringing innovation, change, and more options to our sailing world."  Light, fast and technical the Z15 provides new challenges for sailors used to the traditional double-handed designs.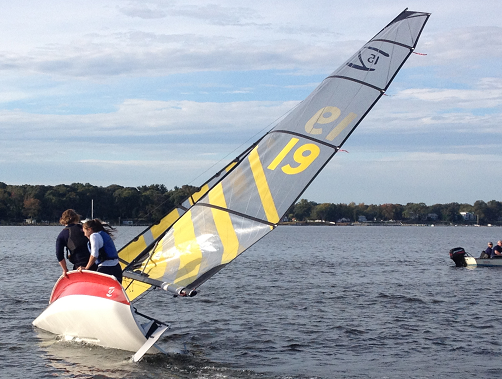 Upwind the boat is sensitive with a narrow groove.  "It's tippy," said Sitzmann, "and in my brief time sailing it, it seems to be very finicky…In a way, that's what may be best about the boat.  It will force sailors to learn more about sail controls, trim, and balance."  A light air beast, the Z15 was put on display this past fall at the Hinman Trophy US Team Race Championships.  Athletes described the boat as sensitive and very responsive to weight placement and sail trim.
Downwind the Z15 takes some adjustment.  The lack of a big off-wind sail means the introduction of a whisker-pole to get the clew of the jib out and drawing.  The ability to wing the jib out further than held by hand means deeper angles can be sailed than what a two-sail boat might normally be able to achieve.  The hull shape makes weight placement key and thusly much less roll is needed to boat-handle than an FJ or 420.
Why Sail? New and Improved
Most of today's double-handed boats were designed over half a century ago.  While they are still more than capable and serve a very large purpose in the youth and collegiate sailing community, there is a need for a technical dinghy for high-level fleet and team racing.  It continues to evolve as feedback comes back from the racecourse and promises to be a competitive class for years to come.  Mentioned before, it was featured in the Hinman Trophy this past fall and will be the boat of choice for the new 2015 Team Race Midwinters (replacing V15 Midwinters).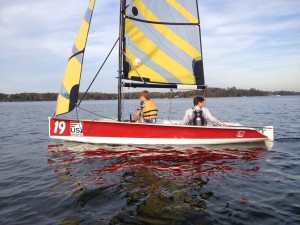 Whether you are stepping out of collegiate dinghies, or simply looking for something new and exciting, the Z15 looks to be an exciting new platform for racing.  With a price tag around $11,500, the Z15 is a more exciting, faster and most important, growing cousin of the V15.  For the moment it would appear the Z15 is the best option for post-collegiate sailors and yacht club members looking for a fun, fast boat to team race in.  Bottom line, the Z15 infuses new life into the young adult dinghy racing circuit and provides a new alternative in the performance market.