By Airwaves Editor Martha Pitt
Two weeks ago, the Annapolis Yacht Club welcomed 89 J/70s to its facility to compete in the inaugural J/70 North American Championship. With participation in the class growing at an alarming rate in the past year or so since the fleet was introduced, it's no surprise that event filled in just twenty-seven hours with an extensive wait list, exemplifying how excited and eager so many sailors were to compete! Since the boat is so new, the class is still settling in on class rules and optimal tuning guides, but one thing is for sure: this boat has attracted many top sailors and the fleet gets deeper and more competitive with every event sailed. Only one third of the North American Championship fleet qualified for the Corinthian division.
And yet, despite the deep professional talent on so many of the J/70s competing, the boat to emerge victorious was in fact a Corinthian boat! MUSE, sailed by former Tufts Jumbos Joe Bardenheier, Stu Saffer, Bill Lynn, and skippered by Heather Gregg Earl bested the competition with patience and perseverance and won the regatta with 95 points, just two points ahead of Savasana skippered by Brian Keane. Every boat on the race course faced the same challenging conditions and had to adapt to the changing breeze, and every boat had that one or two (or more!) races that they wished they could take back. But with no drops, the teams that were able to look past the mistakes and minimize damage were the boats that made their way to the top of the fleet; rarely in a seven-race series does the winning boat have an average score of 13.6, which shows just how tough the racing conditions and fleet were! But MUSE did just that; they were able to capitalize on the good races, minimize mistakes, and learn from the tough races to move forward.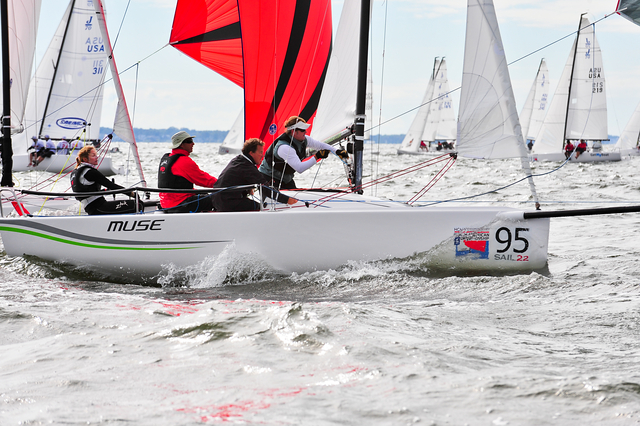 The crew from MUSE was gracious enough to share their thoughts about the regatta, the class, and their successes thus far. Earl and Bardenheier bought the boat back in November, and have sailed it in numerous events since, including the winter and spring J/70 circuit, Key West Race Week, Bacardi Race Week in Miami, Charleston Race Week, the NYYC Annual Regatta, and the Marblehead NOOD, among others. The team has known each other for over twenty years, and have all raced with and against each other throughout that time, though their connection comes from the Tufts Sailing Team, of which they were all a part. Though this is the first event that this particular crew has sailed together on the J/70, you can bet that we will be seeing them all on the race course again soon! Congratulations to MUSE for being the first J/70 North American Champs!
S1D: How do you all know each other, and how long have you been sailing together?
Heather Gregg Earl: We are ALL jumbos, we went to Tufts and sailed for the team there. This is the first event that we all sailed together though on a J-70! When we were planning the crew for the event, I really thought it would be cool to have an all Jumbo boat so approached Billy and Stu to sail with Joe and I. I was really excited to get this team together, we have sailed together on the team race circuit over the years since Tufts, sailing on the same team for New York Yacht Club plus we have been really good friends for years. Having a fun team was as important as having a good team – luckily I got both!
S1D: What were your expectations going into the event?
Earl: Once registration closed on the event and I took a look at the scratch sheet, I knew it was a pretty deep fleet for sure. Most of the teams we had raced against so I had a good idea who the players were. Teams were working really hard in prep for the NA's so I knew it wasn't going to be an easy regatta at all. Going in to the regatta I felt like we had pretty good boat speed, I felt like all the time we had put in was starting to pay off, but I knew consistency was going to be key. And with so many pros jumping into the class, our goal was to be top 15 and win Corinthian Division. Never thought we could win both!
S1D: We saw a WIDE range of conditions, making it really tough for any boat to find any consistency at the top of the fleet. What was your mental game throughout the regatta to stay focused and not get frustrated?
Earl: After the first race when we had a 5th and some of the top guys had some deep finishes, we realized we have to attack this one race at a time and be prepared that we may be all over the place finish wise and be prepared for that inevitability. Consistency is going to win this regatta especially without a throw out. We had to take a penalty turn shortly after the second start in light air (a tough one to recover from lane wise) so we had a 5, 55, 5 on day one. Collectively our team just put that aside (the 55!) and we just focused on each race. Our team just kept the positive energy flowing. We didn't focus on the scores after every race, but just focused on doing the best we could in each race. Not getting so focused on the scores was key. Also, I have to say I had the most AMAZING crew and can't say enough good things about how we all worked together so well, making my job as driver an easy one. Billy Lynn did an outstanding job calling tactics. Stu Saffer did an incredible job trimming jib and spin and Joe Bardenheier was exceptional at trimming main and helping out all around. When you have a team that REALLY works well together, communicates well, its much easier to stay calm, focused and deliver the results.
S1D: What were some of the things that you guys were focusing on throughout the regatta?
Earl: Clean starts, boatspeed, and lane management upwind and down. Getting off the line with a clean lane was a real focus in the light conditions. Having the ability to get to the side we wanted was key and it was critical to be able to find a clean lane very early in the race in order to do that. With 90 boats on the line speed off the line was key to holding your lane.
S1D: How does it feel to be a Corinthian boat and beating so many professional sailors?
Earl: Awesome!! It's great to have so many professional sailors on the course as it brings the game up to a new level – but it's even better to beat them!
S1D: What kind of advice would you give to newer J/70 sailors?
Joe Bardenheier: Practice and preparation are important. Find some people that you really like to spend time with and get out there and have some fun. These boats seem to be really even right out of the factory, let's work together to preserve the integrity of the class so that the racing comes down to strategy, tactics, team work and boat speed and not into an "arms race". Let's all make sure to have some fun together on and off the water.
S1D: What about the J/70 drew you to get involved in the fleet? What do you like most about it?
Earl: Joe and I had been interested in getting a sport boat to ca
mpaign. Stu Johnstone called and asked us to go for a sail on one and it was a typical south westerly day in Newport, blowing 15-20….It didn't take us long, SOLD! It's a really fun boat, it's a scream in a breeze and we knew it would attract a lot of top sailors…having a boat this high performance at such a reasonable price point we knew would grow the class quickly.
S1D: How did you enjoy sailing in Annapolis?
Bardenheier: Annapolis is such an historic place to sail and the Annapolis YC certainly knows how to throw an amazing event. They did a terrific job of making the entire process easy and fun from the check in to the final awards ceremony. The race committee and their entire support was top notch, they should all be commended!
S1D: Where did the name "Muse" come from?
Earl: No, not the rock band! Muses are the goddesses of the inspiration of literature, science, and the arts in Greek mythology. They were considered the source of knowledge. There are nine Muses, all daughters of Zeus & Mnemosyne. We picked the name because the J-70 was, for us, somewhat of an inspiration for us to buy the boat and go racing!
S1D: Are you all planning on doing anymore events as a team in the next year?
Earl: Yup, Worlds baby! We hope to keep this Jumbo team together for as many regattas as we can as we lead up to next years Worlds in September.
S1D: Any other comments about the event, the boat, your team, your support, etc?
Earl: We would like to thank Atlantis Weather Gear for their support of Team Muse. It's the best gear out there and we love wearing it!
J/70 North American Championship Report & Full Results:
https://www.sail1design.com/airwaves-sailing-news/regatta-news-results/1184-j70report