Compiled by Airvaves Writer Dillon Paiva, photos of the Graham Hall by Alec Tayler
Brought to you by Dynamic Dollies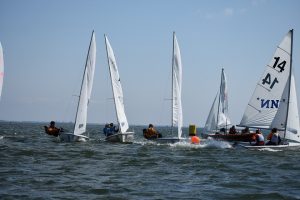 March 23, 2017– The second edition of our season rankings are here! The major events since our last rankings were the St. Mary's Team Race, Southern New England Team Race, and the largest team race in college other than Nationals, the Graham Hall.  What a difference two weeks can make.  We finally saw #1 ranked Yale live up to all the hype, a 2nd place team drop all the way to 13th, and several NEISA teams finally breaking out of the cold to get their first team race regatta of the season under their belts. New to the list are upstarts Bowdoin College and George Washington University, who showed great promise and earned their berths this week.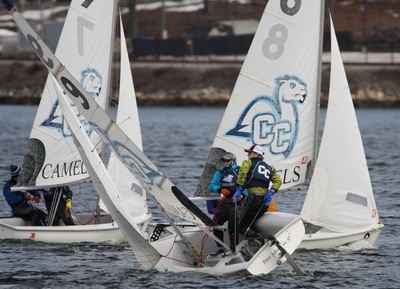 Photo: William Tomasian
Coaches who participated in the poll ranked their top 15 teams in the country based on results from the previous two weekends and gave comments on each team.
Rank
School
Total Points
1
Yale
75
2
Boston College
68
3
Georgetown
67
4
Navy
59
5
George Washington
55
6
Dartmouth
47
7
Bowdoin
44
8
Hobart William Smith
43
9
Tufts
32
10
MIT
27
11
Roger Williams
26
12
Boston University
14
13
College of Charleston
13
14
UCSB
11
15
Stanford
8
Also receiving votes: Connecticut College, Harvard, USF, St. Mary's, Fordham
Coaches who participated in the poll: Ken Legler (Tufts), Billy Healy (Yale), Clinton Hayes (Stanford), Johnny Norfleet (Fordham), Dillon Paiva (Navy)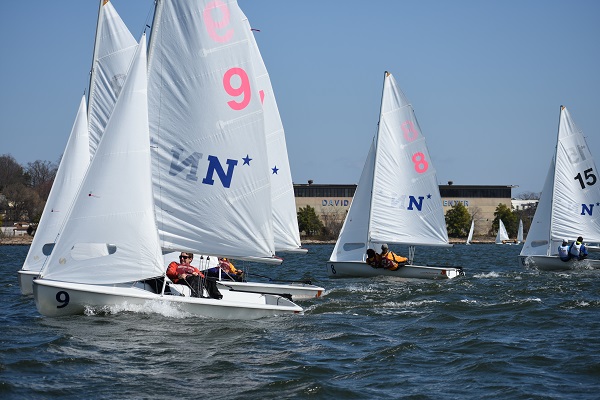 | | | | | | | |
| --- | --- | --- | --- | --- | --- | --- |
| Rank | School | Ken | Bill | Clinton | Johnny | Dillon |
| 1 | Yale | Yale Got better throughout the Graham Hall to win their first regatta sailed this year | It took a three-way sail off but still #1 | Still unbeaten. Still #1 | Won the Graham Hall though only by a slim margin. That was their first event so expect them to continue improving | Came out of the winter swinging with a win at the Graham Hall.  Still the best, but not as far ahead of the field as most thought |
| 2 | BC | Also got off to a great start winning in St. Mary's and in the sail-off for the Graham Hall | Don't think they're happy with third at the Graham Hall being one-two'd by both teams in the sail off. | Like Georgetown, would have been #1 if they came out ahead in the 3 way tie this past weekend. | Yale and BC are a notch above the rest. The rest of the field is wide open | Ended first at the St. Mary's TR and third at the Graham Hall, still second best in NEISA |
| 3 | Georgetown | Third at the Graham Hall equals third in the nation for now | Sandwiched between two good NEISA teams | Near win last weekend at the Graham Hall. Would have been #1. | Tied for 1st at the Graham Hall keeps them in the top 3 but they showed some serious weaknesses in earlier races lost. They are still figuring out their top 3 so expect them to get better between now and nationals as they are the clear favorite in MAISA. | Rounds out my top three.  These teams are ahead of the field by a bit as shown with a three way tie requiring a sail-off after cut off time at Navy last weekend |
| 4 | Navy | They're tough this year | Well coached and will give GW and G'town a run for the top MAISA spot at their qualifiers | Impressive results! Clear top 5 team right now. | Split races with GW at the Graham Hall but better results across the board this season | Strong performances at every regatta so far, including second at St. Mary's TR and 5th at Graham Hall.  Definitely contender for top MAISA spot |
| 5 | GW | GW began the Graham Hall on fire but became mortal the second day | New Kids On The Block pushing around the establishment. | Another team stacking up some impressive results. Certainly their first time in my top 5! | Sailed very well on day 1 of the Graham Hall. Lost some of their poise on day two against tougher opponents. Making a charge for their first nationals berth in program history | Very strong start to the graham hall regatta.  4th at two of the largest and most competitive regattas of the season in last two weekends |
| 6 | Dartmouth | Wish they could have raced in the Hall | I still think the return of their 2016 Nationals team will be huge. | Haven't seen them the last 2 weeks… | Didn't compete this weekend but still probably the 3rd best in NEISA on paper | Haven't seen this team in a while, but they like to keep to themselves.  Don't let this fool you though, they'll be strong come Fowle |
| 7 | Bowdoin | A surprise finalist at the Hall?  Let's give them some credit. | Beat the top three at the Graham Hall but couldn't finish off the teams they should beat on paper | It's crazy how deep ICSA team racing is right now! Add the Polar Bears to the list of legit team racing squads. | Made the top 6 at the Graham Hall but struggled despite taking a win off Yale | Not only was graham hall their first team race of the season, it was their first overall regatta.  Must be cold up there, but excellent showing making the top 6. |
| 8 | HWS | Getting several good results in early season | 8 of their 9 wins at the Graham Hall were 1-2-x.  I know what they'll be working on. | Good consistent results so far this season. They are looking very good. | Narrowly missed the top 6 at the Graham Hall. Looking like the 4th best team at MAISA as the field stands now | We were all right about freshman star Hector Guzman rounding out this team.  They are fast and able to take wins off anyone |
| 9 | Tufts | Tied with MIT for now | Jumbos can take any team down.  Current weakness is many losses to a 1-2 | Beating MIT moves them just ahead in my rankings | Not great at the Graham Hall but I expect them to be a contender in NEISA based on home field advantage | Strong start to graham hall but tapered towards the end, but still finishing with a winning record |
| 10 | MIT | Good start going above .500 at the Hall | Fast and smart seasoned Beavers here. | Losing to tufts (on a tie break) but they stay in my top 10. That's 6 NEISA teams I'm ranking in the top 10. | Decent finish at the Graham Hall for their first event. Should be a contender for a nationals berth in NEISA. The Fowle is going to be messy | Had some strong races for sure at the Graham Hall, another NEISA team that is sure to get better as the season warms up |
| 11 | Roger | Above .500 at the St. Mary's team race | SNETR winners look strong after a week of good training with Bowdoin and Eckerd. | Strong win at the Southern New Enlgand Team Race | Won the SNETR though it was a weaker field and a one day event this year. | Won the SNETR with only one loss. Only a one day event but still plenty of high level competition |
| 12 | BU | | Stan has something good going on here.  Great Performance at the Geiger Trophy at MIT beating a really good Harvard team. | | | Handily takes the win at the Geiger |
| 13 | Charleston | Was their first at the BOB the anomaly or will they return to form after two subpar results | | 2 weekends of weak results drop them a bunch in the rankings. I'm sure they will be strong come May. | What a difference a week makes. After a win at the Bob they get stomped at St. Mary's and the Graham Hall. Turns out home field advantage matters. Look out for the Cooper River Cross Current Double Modified Port Triangle at nationals. | Poor finish due to a head injury at the St. Mary's TR, but I thought we would see them bounce back a little higher at the Graham Hall |
| 14 | UCSB | Remember, they won the McIntyre | UCSB was idle while St Mary's squeaked out a 10th at a very difficult Graham Hall Regatta | They stay in my rankings based off earlier results | We haven't seen them for a couple weeks but they remain best in the west until proven otherwise | |
| 15 | Stanford | | Team Race Master Clinton Hayes has a good base to work with here | The abandonment on round robin 2 at St. Mary's hurt the cardinals | Have some serious players. Haven't had much opportunity to show where they stand against NEISA/MAISA teams | Sixth at the St. Mary's TR, with more trips to the east coast planned, wouldn't be surprised to see this team climb |