Sail1Design is pleased to present our youth sailing perspective series "Sailing with Grace". Grace Lucas, a Sail1Design intern, is a high school senior at Severn School just outside Annapolis, MD, and along with her busy academic schedule, is also a member of the nationally-ranked Severn School Sailing Team. Enjoy!
A Rather Unusual Rags to Riches Story: My Personal Experience with Sailing
Unlike the majority of sailors planning on sailing in college, I haven't been sailing since I was 6. I did not spend the majority of my childhood in an oversized bathtub (otherwise known as Optis), in fact the first time I really competed in a regatta was my sophomore year of high school.
Growing up I played almost every sport one could imagine: Soccer, Lacrosse, Field Hockey, Track, Swimming, Gymnastics. Living in Annapolis, I'd obviously been on a sailboat before. I'd grown up going out on the water with my dad and cruising around the Severn River for fun. However, I never really thought about it as an option.
Right before high school, after an overextension of my knee, I was forced to quit Gymnastics, and with that seven years of dedicated training. During my freshman year I dabbled around in sports, trying to find something that filled the void that was created by Gymnastics. I played Soccer in the fall, swam in the winter, and ran Track in the spring. However none of these sports really left an impact on me. I had no desire to kick a ball, or get in a pool, or run during my free time. So when sophomore year rolled around, I decided to branch out a little bit further. In the Annapolis area, Severn is known for their sailing team, and I thought about how much I enjoyed sailing when I was younger and decided to just give it a go.
Thats when my love affair with sailing started. I love the feeling of the wind on my face, I love being on the water, I love having to actually think about every single small movement of my body. My coaches were amazing. Coach Megargel taught me the basics, while still managing to send our varsity team to both Fleet Race and Team Race nationals. Then I decided to sail in the Annapolis Yacht Club Junior Sailing program. My first coach was Ian Duncan, who now is a graduate from the University of Vermont. I accredit a lot of my sailing knowledge to him. He taught me to use trap and spin – two of my favorite aspects of sailing. He also helped me improve my boat handling – to the point where when I returned to school in the fall I was part of the Varsity team at school.
At the beginning of my junior year Tom Sitzmann returned to coaching the Severn team. I took this as an opportunity, as Mr. Sitzmann has so much experiences in so many areas of sailing.Through all of the team race talks and meetings before and after practice, he and Ms. Megargel helped me improve my course awareness.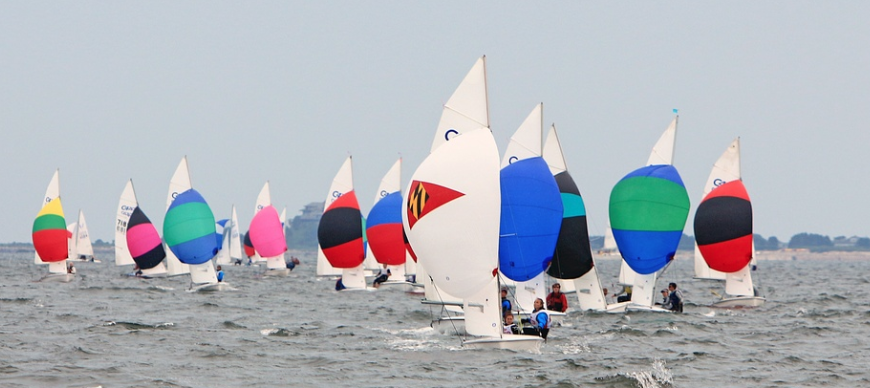 During the winter, Emma White and I decided to sail together on the AYC 420 Travel Race Team. This club pairing quickly became a permanent school pairing as well. Emma and I, starting in the beginning of the spring season, started to work our hardest to improve as much as we could before the summer. We made sure that we were always one of the first boats out on the water so we could get in some extra tacks and gybes, and after the Ms. Megargel sent everyone in we'd stay out on the water and ask one of our coaches to watch four or five 360s, and give us any tips for improvement.
This hard work eventually opened doors for us. With a recommendation from Coach Sitzmann, we were able to attend the Brooke E. Gonzalez Advanced Racing Clinic, despite our lack of experience in Club 420s. That clinic was just the beginning of our summer adventures. There, we met some amazing coaches from whom we learned a lot. Our frame of mind was that we needed to take in as much information as possible. We always had our notebooks open with a pen at hand – even just for talking about drills. Emma and I even split up during the talks so that together, we could cover all eight subjects and share our notes. As our first major event together, we did not worry ourselves with the results. We just wanted to concentrate on improving throughout the clinic, and with all of the sailing knowledge that we obtained, it is easy to say that we definitely did. After Brooke Gonzalez, we headed out to Newport Beach, CA for Ida Lewis. At Bahia Corinthian Yacht Club, we had another amazing set of coaches. At Ida, we sailing directly on the ocean, which was very different from the rivers and bays that we were familiar with. We learned how to accelerate on big rollers and deal with being sea sick on a 420 (which I never thought was possible), both of which were very new to us.
The morning after our return from California, we headed straight to Baltimore County Sailing Center to compete in our areas Junior Olympics. Here, we met our first AYC Race Team coach, Russ O'Reilly, who happens to be the head coach at SUNY Maritime. After Junior Olympics, during our only two weeks of practice in Annapolis, we met Adam Werblow, our second coach for the summer. Adam only coached us for the three weeks that we spent in Annapolis, however during those three weeks he became one of my favorite coaches. Along with giving us the nicknames of Kibbles and Bits, he also helped Emma and I perfect our trap techniques just in time for us to head up north!
During our excursion throughout the Northeast, we traveled all the way up to Nova Scotia and back down to New England. In Nova Scotia, we competed in the C420 North Americans. Yet again, we also met another coach! Nick Martin, our final coach from AYC, traveled around the Northeast with Russ to coach us.
Throughout our 3 week trip to the northern part of the continent, Emma and I became very close to both Russ and Nick. Along with teaching us so much about sailing, they made us love the sport even more. At CJ Buckley, they taught us how to work together as a team, and actually enjoy team racing.
For me, my experience (with oh so many coaches) this summer reinforced my desire to sail competitively in college, which gave me to confidence to email coaches at schools with really good sailing teams. If two years ago someone told me that I would be sailing in college, I would've told them that they were crazy. But look at me now! The only thing I am confident about when it comes to college is that I want to sail. In two years I went from barely knowing the basics of sailing, to being a varsity crew with the ability to actually be recruited. To me, all of this just shows me how far a little bit of hard work can take you, and I am excited to see just how far it can take me in the sailing world.