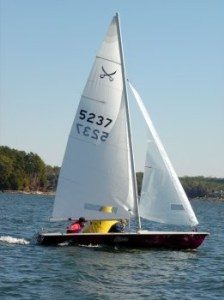 Designed in 1966 by Rod Macalpine-Downie and Dick Gibbs, the Buccaneer incorporates classic elements that have made this racing dinghy a consistent performer for more than 35 years.
Due to its hull design, the Buccaneer planes in 8-10 knots of wind. An integrated spinnaker launch tube, roller furling jib, and well-constructed sail plan, 7'3″ cockpit with non-skid seats, deck and floor make it a good two-handed racing dinghy. Well balanced and easily handled, the Buccaneer continues to appeal to both seasoned competitors and new sailors.
Weighing 500 pounds, the Buccaneer requires a trailer and winch to be launched. A comfortable cockpit arrangement and simple rigging round out the Buccaneer's design, make it a good day sailor for the family.
Class website:
http://buccaneer18.org