PRES
S RELEASE:
Whitecap Composites is pleased to announce that we have been granted a builder's license from the Club FJ Class Association. A boat had been sent to the US Sailing Center in Long Beach, CA for measurement. It was also sailed in a number of regattas to evaluate its performance.
We look forward to being involved in the future of the class for many years to come.
Whitecap Composites Inc.
Whitecap Composites, Inc. is a team of passionate sailors, racers, and boat builders. They began their business back in 2011 when they were approached by a number of institutional coaches who felt collegiate racing would benefit from boats with improved structural integrity, a higher level of consistency, and a more performance-oriented feel. Whitecap Composites has the flexibility to incorporate any custom requests into their boats as they have learned that individual groups use their boats differently.
Currently, Whitecap Composites builds collegiate boats including the collegiate FJ, 420, Tech Dinghy, and the Lark. Now, with this new builder's license, they will be building Club FJ's. We talked with Paul Zimmerman from Whitecap Composites for a little Q and A on this new venture.
Why did Whitecap want to start building Club FJ's?
First, we would like to clarify the difference between the Club FJ and the Collegiate FJ. The Club FJ must adhere to a specific set of class rules which define physical measurements, overall weight, and construction materials. Whereas the collegiate FJ can include features specific to a customer's requirements and can be built to withstand a higher rate of collisions that the boats are subjected to in a college environment.
Now to answer your question, Whitecap Composites was initially approached by a number of schools to develop a lighter, stiffer, and more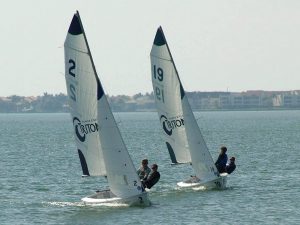 durable FJ that would stand up to the heavy use that college sailors put them through. Additionally, they wanted a boat that would last for 10 years. We set out to accomplish this by engineering a composite laminate and using a construction process that would achieve this goal. The process we chose was resin infusion using vinyl-ester resins. By infusing the boats we eliminate the possibility of air in the laminate, and we can strictly control the weight tolerances of boats within a fleet. Vinyl-ester resins are less prone to water damage than polyester resins and are also more forgiving, and less brittle. Also, by utilizing the infusion process and the specific laminate that we use, repairs to the boats from collisions are much easier to perform.
We felt that the West Coast market which predominantly sails the Club FJ could also benefit from what we had developed for other fleets in the country. So we applied what we learned with the Collegiate FJ to meet the specifics of the Club FJ class rules which addresses weights, hardware locations, and construction materials. The Class Association was very receptive to the possibility of a new builder and accepted our request to present a boat for their consideration.
Are you going to do anything different to make the Club FJ stand out from other boat builders?  
In addition to the technical aspects, we wanted to provide a service that was attentive to the needs of schools and programs that require a quick response to all aspects of delivering new boats, including service after the sale was made and the boats were delivered. The number one goal is to keep the boats on the water sailing and not out of service.
Are there any clubs, teams, sailing centers interested in buying Club FJ's from you already?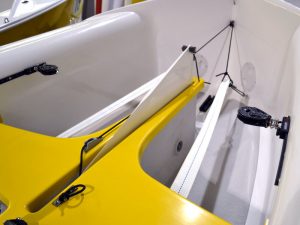 We currently have Collegiate FJ's at many schools and programs. Since just recently being granted a builder's license from the Club FJ class association a few weeks ago, there has been quite a few request for quotations. We have already sold some boats to the San Juan Sailing Foundation in Washington State.
For more information on Whitecap Composites check out their website: http://www.whitecapcomposites.com/index.php And for questions regarding the new Club FJ's they will be building Contact Paul Zimmerman at [email protected]