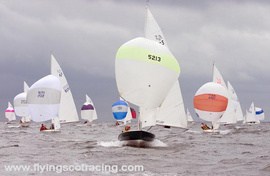 The Flying Scot is a day sailer dinghy used for pleasure sailing as well as racing throughout North America. The Flying Scot was designed in 1957 by Gordon K. (Sandy) Douglass who had already designed the Thistle and Highlander dinghies.
The Flying Scot Association says, "The Scot's performance offers thrills to even the experienced sailor and provides for tight, competitive racing. There are more than 100 fleets racing Flying Scots in the USA and Canada. The Scot is normally raced with a crew of two or three, but can be single handed as well. The sail plan consists of main, jib and spinnaker. Simple rigging and uniform construction fosters tactical racing."
loa 19'
beam 6'9"
sail area 191 ft²
spinnaker area 200 ft²
hull weight 850 lbs.
crew 2-3
# of boats built 5,000 +
active US fleets MD, FL, CA, MA, CT, RI, VA, NY.
Class website:
http://www.fssa.com/