Not Your Average Weekend Warrior: A look at the Javelin Skiff
By Airwaves writer Sara Morgan Watters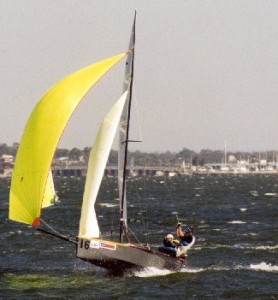 The Javelin Skiff is not your average double handed dinghy. At 14 feet this high performance, single trapeze skiff is far from a boat that will get you out on the water for some casual weekend racing.  Expect to have a high intensity sail if the breeze is anything but light. Capable of exceeding speeds of 22 knots off the wind with the gennaker up, this class is not where you'd expect to find your average weekend warrior.
Before I attended the Javelin Nationals this past weekend at Takapuna Boating Club in Auckland, NZ most of my time "sailing" the Javelin during weekend club series had actually been spent in the water swimming. The most hours I racked up in the skiff was over this weekend of racing where I was thoroughly impressed with my competitors knowledge of the boat and how to make it to go fast – really fast.



With a few boats trickling in from different regions of New Zealand to compete in the event, it became clear to me that these were a group of people who, like the motto of the Javelin class, like to get out on the water to go fast, have fun and do it in an affordable boat. For this group, the Javelin provided them with more than just a boat to do weekend club series events.
Choosing my words carefully – I observed that my competitors were of a slightly older generation, which further contributed to the impression they left on me as we zoomed to the leeward marks in 20 knots of breeze on the first day of racing. But the impressiveness of the Javelin fleet didn't start on the water. Most of the sailors have been sailing the boat for a long time and know the technicalities to really make them hum.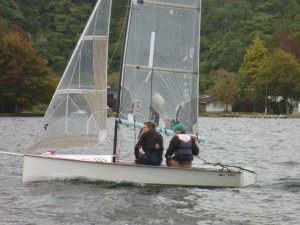 Being a Restricted Development Class, loose class rules allow sailors the freedom to experiment when building or modifying a boat. Surely enough this has allowed the class to evolve as individuals find new and innovative ways of making the boat go faster. Modifications range from hulls, foils and control systems (including a fuse release for the gennaker), to self-tacking jibs to elaborate mast bend control systems.
As the class website says, 'the ability to "try something out" has seen some of yachting's biggest names design Javelin hulls. IACC designers Bruce Farr, and Ian Murray being notable examples. It is also common for owners to build their own designs".



With no fear of chopping and changing parts of the boat, the race begins long before the first warning signal. The "do it yourself" attitude not only helps keep participants of the class innovative, with the latest designs being developed at home in the garage, but it also keeps the boat affordable. This DIY attitude should come as no surprise as Kiwis pride themselves on taking initiative.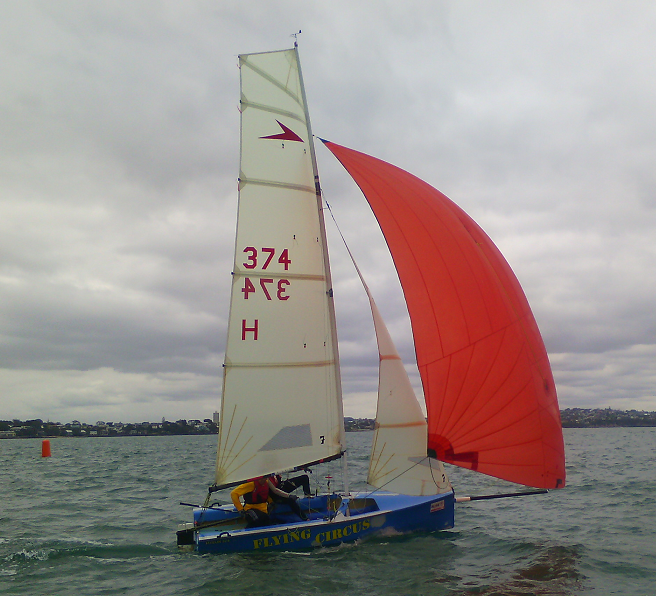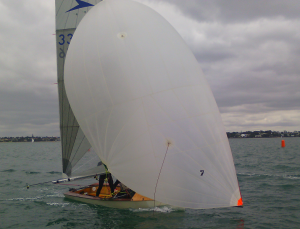 At Nationals having a good boat set up was just as much a part of the winning formula as making good decisions on the water. With former 470 World Champions and Europe dinghy world medallists, the competitors were by no means amateur racers. Only the winners of the event, who put up a perfect picket fence, demonstrated complete mastery of the boat as well as good tactical decision making. However, even then they weren't always leading around the course, as the other competitors made them earn their positions.
Beyond this pinnacle event in Javelin sailing, others around New Zealand and Australia have enjoyed what the Javelin offers and it is common to find the Javelin on the starting line at different Club events around New Zealand. Where the important aspects of sailing, like boat design and tuning, meet a fun and fast boat on the water, there is something for everyone in the Javelin. No matter what your level or experience you'll be able to take something away with you.
To learn more about the Javelin class, visit here: http://www.javelins.org/