I met Alec Anderson when I moved to the British Virgin Islands in 2015 to coach at the Royal BVI Yacht Club. I knew who Alec was from following college sailing and consistently saw his name at the top of the regattas. At this time, he and his crew, Chris Brockbank, were in the middle of their campaign trying to qualify for the Rio Olympics and were sailing their 49er all the time out of the club. Alec was then, and continues to be an inspiration for the local sailing kids for how much sailing has to offer and how far it can take you in this life. He was always willing to come around and help out with the development of sailing in the territory. In addition to being a role model for diligence and incredible work ethic, he is an incredibly approachable guy who doesn't carry any ego, something often rare among professional sailors.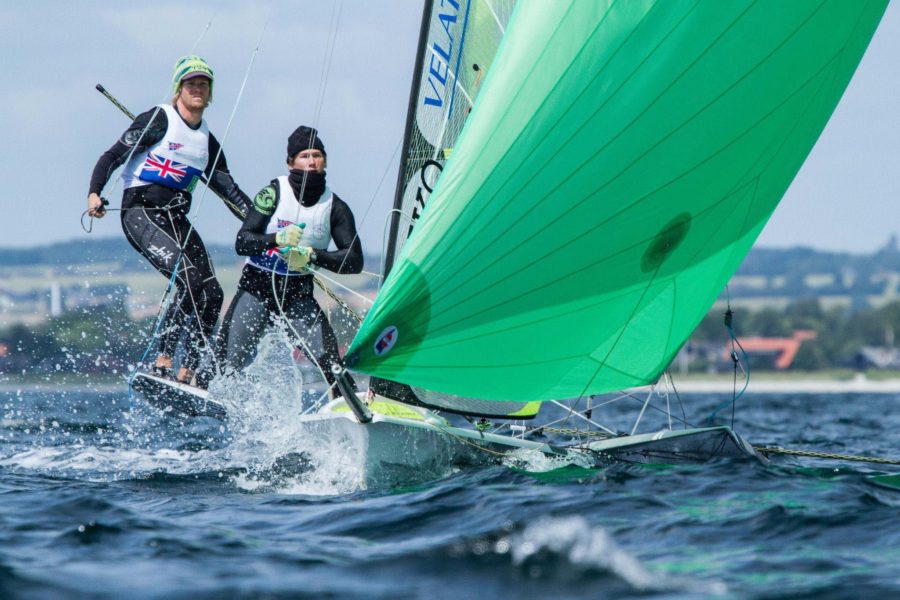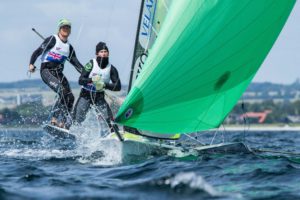 How did you get into sailing?
I was born and grew up in the British Virgin Islands so quite naturally I got into water sports at a young age. Once I was 6 or 7 years old my parents signed me up for sailing camps on school holidays and after school programs at the Royal BVI Yacht Club. I spent the majority of my early years chasing around my older brother Sean.
What did you first start out sailing?
Initially I started sailing optimists. My dad was big into windsurfing so Sean and I learned how to windsurf at the same time we were learning how to sail.
How did you start traveling to more regional events and later international events?
When I was 13 or 14 I did the BVI dinghy champs in the optimist and placed second in Red, Blue and White fleet against a good group of sailors from the USVI. I hadn't trained for the event and was surprised with my result. Soon after I finished on the podium at the Scotiabank Opti Regatta in St. Thomas and I was hooked on racing. My parents bought me a used boat from St. Thomas and I started training alone in the BVI. Eventually I started commuting to St. Thomas on weekends where I trained with coach Augustine "Argy" Resano and a great group of young sailors including Ian Barrows and Nicky Barnes. With that group I started to travel more for regattas and really got into the racing scene.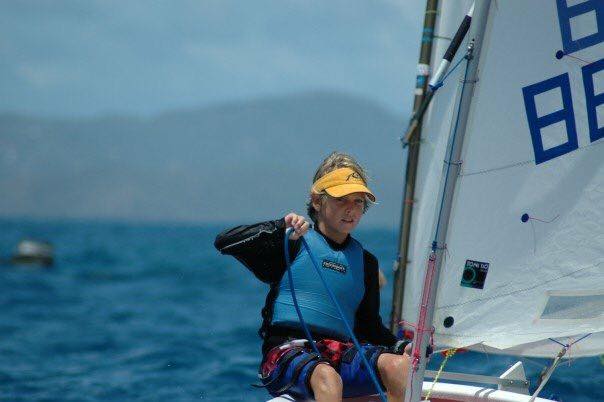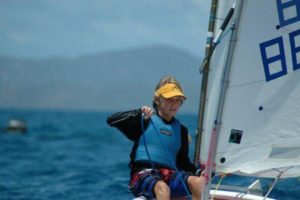 What was the biggest regatta you competed in while racing Optimists?
About a year into training with the group in St. Thomas I attended my first World Championships in 2006 in Uruguay. It was my first and only Opti Worlds as I aged out at that point. I didn't do very well, but it was a great experience. Some of the kids I met there did Olympic campaigns the same time I did and now sail professionally as well.
What did you sail following the Optimist?
Just before I aged out of the Opti, Chris Watters had moved from Canada to run the racing program in the BVI. That was a major turning point for me because I wasn't sure if I wanted to continue sailing competitively. Luckily Chris saw potential in me and convinced me to get into the Laser. I had no other option. If there was a 420 or a 29er in the BVI at the time maybe I would have done that. All we had were Lasers, so we rigged up a 4.7 and he said "get hiking" and that is basically what we did for the next 3 years.
Tell us about your time at the ISAF Youth Worlds?
After my Opti days I was always the smallest guy on the race course. From the 4.7 to the radial, I was never quite big enough to hang in breeze. Regardless, Chris was dead set on going to the 2008 ISAF Youth Worlds in Aarhus, Denmark. It was the final year the boys raced in the Laser Standard and I weighed 130 pounds, wet. I wasn't very excited about that prospect, but Chris insisted we went for the experience as the next year would be raced in the Radial. I got crushed in Denmark, but the experience lit a fuse that inspired my training for the 2009 event in Buzios, Brazil. I trained and traveled extensively, worked with a personal trainer 4 days a week, and ultimately missed about 30 days of my senior year in High School. Although I was still relatively small in the fleet I managed to finish 7th. I was stoked with the result! It was during those experiences that I became obsessed with going to the Olympics.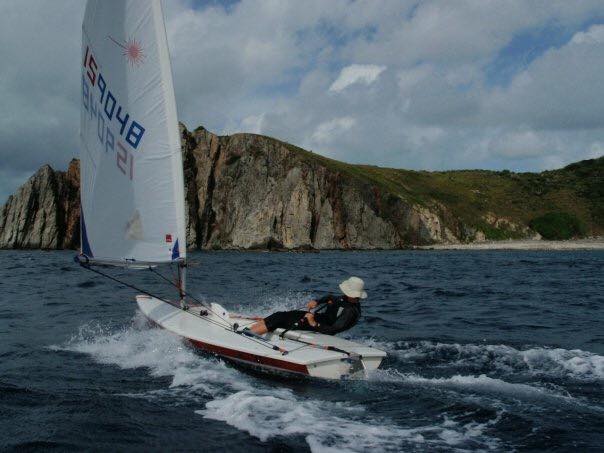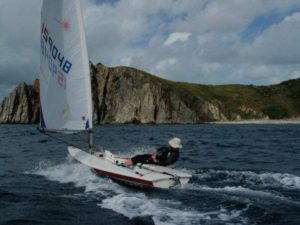 What type of an impact do coaches have on their sailors?
It's impossible to quantify how important coaches are for sailors, or for athletes in general. From the instructors who introduced me to this incredible sport, to Argy who taught me the importance of hard work and preparation for competition, and to Chris who saw my potential and pushed me to take my career further, I am beyond grateful to the coaches who have helped get me to this point. At the junior level coaches also serve as mentors and role models, which in my opinion is priceless.
Training for youth sailing has become very serious in some places, what are your thoughts?
There's definitely a balance to coaching and how serious kids train. This goes for any sport. For example, when I went to St. Thomas to train in the Opti I showed up with my own passion to improve. There were days I didn't feel like doing the fitness or training for six hours, but Argy pushed me and I am ultimately grateful for that. In some cases, however, kids aren't interested at all and are forced to do it by their parents anyway. That can't be fun for the athlete or the coach. It's a tough balance.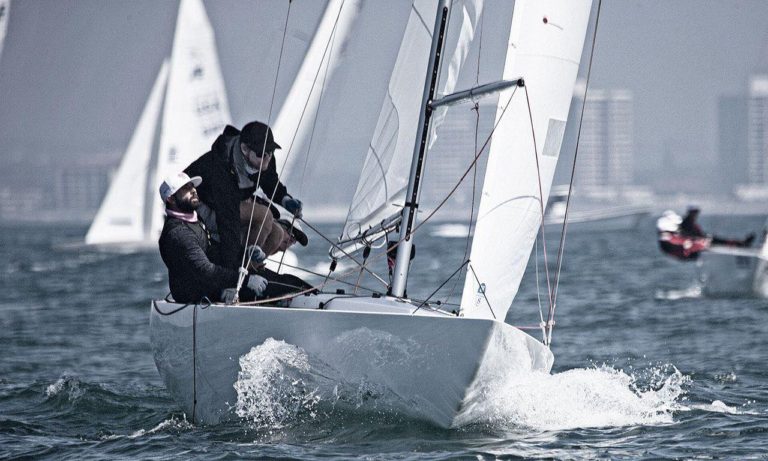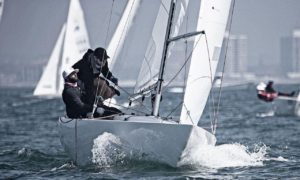 Being from the BVI, did you always know or think you would go to the US for higher education?
Initially the UK was the obvious choice for my higher education. It was a fairly common path for my peers, as BVI citizens pay the same tuition as UK citizens. Once I got into competitive sailing and I learned about the college sailing scene in the US, I eventually changed my mind.
How did you end up picking Roger Williams University?
I looked at Charleston, St. Marys, and Roger Williams in that order. I liked Charleston and St. Marys, but I loved Roger Williams. The size of the school was a good fit for me, the campus is amazing (the food too!) and I thought it would be cool to experience full season changes for the first time. The proximity to a couple of big cities was also appealing. On top of that USVI sailor and long time friend Cy Thompson was attending Roger Williams. I figured I could learn a lot from Cy as well as some other great sailors like Sean Bouchard for a couple of years and then hopefully have the chance to lead the team myself.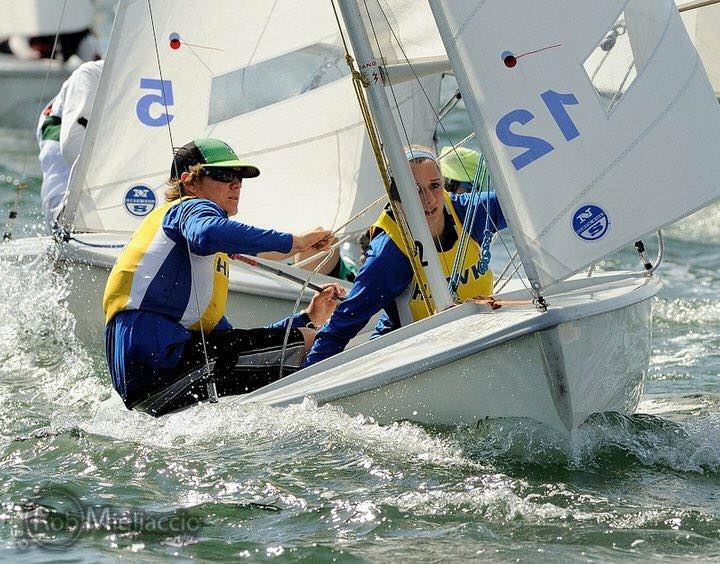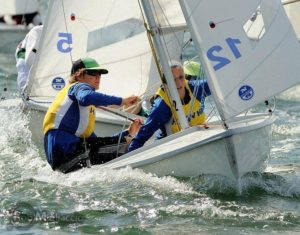 What were some of the biggest things you took away from college and the whole college sailing experience?
After spending many years training alone and in single handed boats, my first lesson was how to be part of a team and sail with a crew. During my freshman year I was deep in the team rankings. I hadn't done any team racing and I had never sailed an FJ. Right away I had to be humble and focus on improving my game. In college you practice four days a week, race every weekend and still have to manage your school work. This also comes with a new independence so self-motivation and time management are crucial. In terms of sailing I would say the biggest lessons learned were risk management and the importance of boat-handling.
What are some of your highlights from college sailing?
My first accomplishment was being named rookie of the year in the New England Conference. Mainly because I had no clue what I was doing when I got there. Most of the kids in my year had done serious high school sailing and were recruited to their schools. To be recognized above them was very rewarding. In my sophomore year I was fortunate enough to be part of a really special team and won Team Racing Nationals. This is one of my sailing career highlights because that event is really tough to win and I won it with some great teammates. In my junior and senior year I showed up to major events knowing that I had a good chance of winning my division. That is pretty cool feeling! I was named All-American three times and nominated for College Sailor of the Year twice.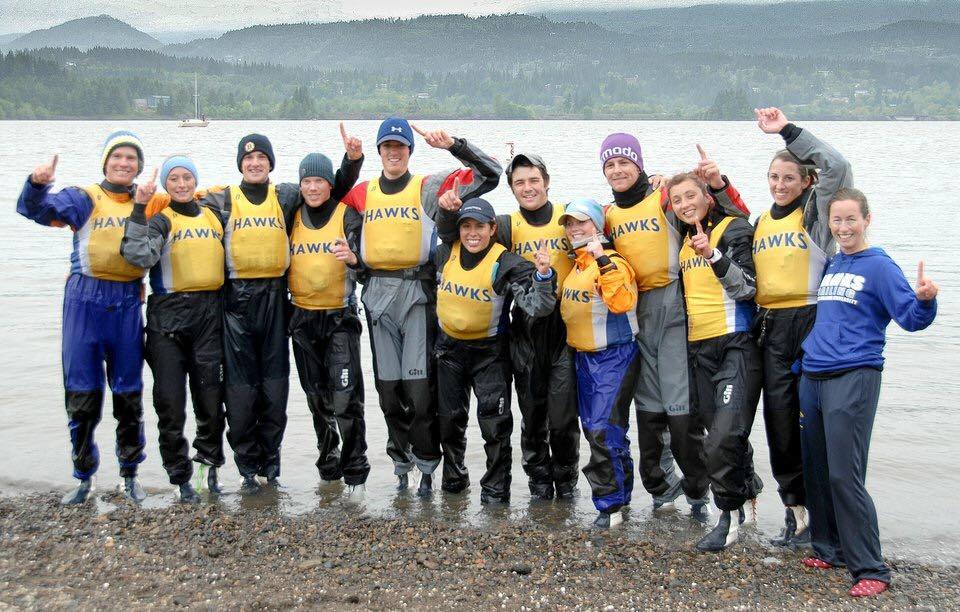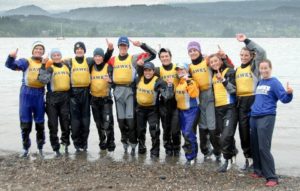 Olympic Campaign
I made a deal with myself that if I got to 170 pounds by the time I was accepted into college I would do an olympic campaign in the Laser. I graduated High School at 135 pounds so I would have to wait to forge an Olympic campaign. Just prior to graduating, Thomas Barrows and Nate Rosenberg had campaigned in the 49er for the USVI and had a boat in St. Thomas. I arranged to charter the boat and contacted long time friend and waterman, Chris Brockbank, who showed interest in putting a campaign together. We spent the summer of 2013 mostly swimming as we learned to sail the boat. With instrumental funding and community support, we formalized our campaign and set our sights on the Rio and Tokyo Olympic Games. We just missed out on qualifying for Rio and shortly after disbanded. Though it would have been amazing to continue on the Olympic path, both Chris and I have gone on to make great situations for ourselves. Chris has settled into a great job on a private island in the BVI and I have married my long time girlfriend, Elsa, and started a professional sailing career. The lessons we learned while campaigning will stay with us forever.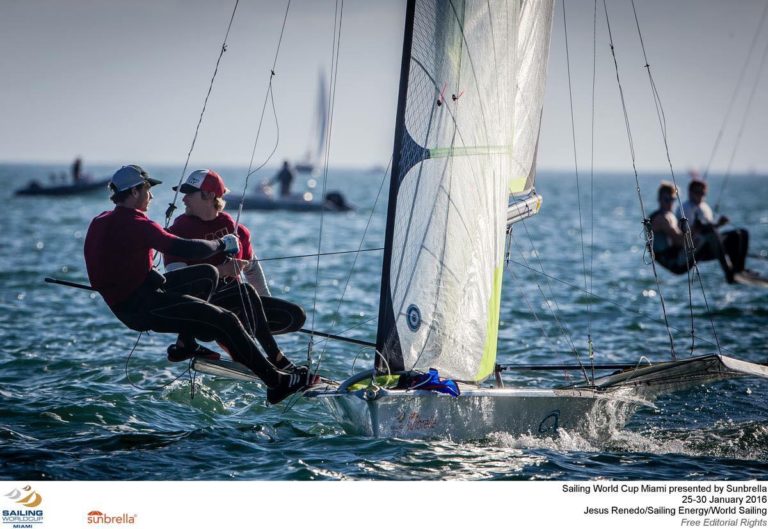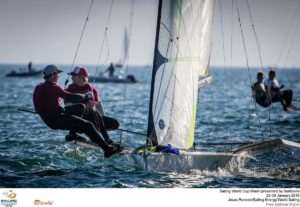 How did you get into the professional scene?
After we put an end to our Olympic efforts in the Spring of 2016 I called my good friend Victor Diaz de Leon and asked if he had any pro gigs that I could join. I was extremely fortunate as Victor was looking for someone to join his J70 team for the Worlds in San Francisco the following month. Victor was calling tactics for sailing legend Jud Smith. Of course I said yes without hesitation and ultimately landed the job as trimmer for the event. We sailed a great event with a chance to win almost all the way through, finally finishing 3rd. This earned the trust of Victor which, like in any network, was essential to getting my 'foot in the door'. I will forever be grateful to Victor and Jud for giving me the opportunity. I also met Willem Van Waay at the Worlds, who together with Victor have helped me grow my network and enter the world of professional sailing. Thanks boys!
How did the hurricanes of 2017 impact your professional career?
I was in Porto Cervo for the 2017 J70 Worlds when Hurricane Irma blazed her path across the Virgin Islands, leaving the territory virtually demolished. I decided it was best to make my way home to help in any way possible. After a pit stop in Boston to console my sister I managed to get to Puerto Rico where I helped Elsa, her sister and a couple of friends evacuate the BVI. I was also able to participate in a large scale relief effort focused on delivering supplies and evacuating people from the BVI. I made it to the BVI on the last flight before the airport closed in preparation for Hurricane Maria. I stayed in the BVI helping my family and friends for a couple of months before moving to Belgium where Elsa had moved for work. In the process I decided to skip both the Etchells and Melges 20 Worlds to stay and help. This was obviously a huge risk for my career, but family comes first and I had to make some hard decisions. If I didn't make the effort of returning home and helping I would regret it for the rest of my life. Those Hurricanes changed the lives of everyone who had to experience them.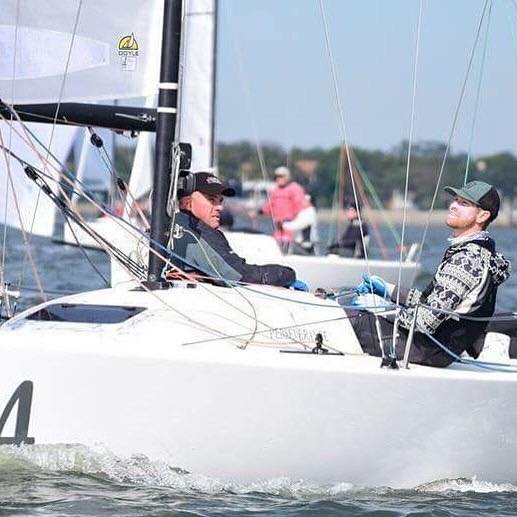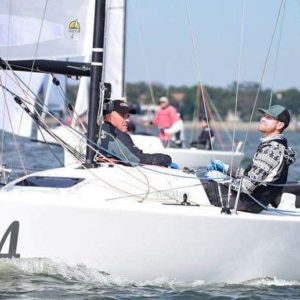 What do you have coming up on the schedule?
I've been fortunate since missing out on those Worlds and managed to get involved in the J70 class this past year. I recently joined a J70 as well as an Etchells program for this winter season and I am hoping to put a Melges 20 program together for the Worlds in April. The goal is alwasy to compete in as many World Championships as possible so that will be the focus next spring and summer.
What are your goals in professional sailing?
Certainly my primary goal is to make a life-long career out of professional sailing. It's definitely not an easy task, but the thought of making a living doing what I love is really motivating. I'd say amongst most professional sailors the America's Cup is an obvious destination.
If there was an aspiring sailor who wanted to get into pro sailing what would you tell them?
Contact everyone you know who sails professionally and be persistent in finding a ride. Take every opportunity that comes your way, work extremely hard, stay humble and always be a good team player.