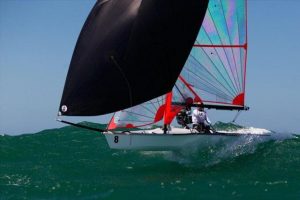 Looking for a fun high-speed boat for junior sailors? The 29er may be the perfect fit. The 29er is a high-performance youth sailing and training boat. This ISAF recognized class has been quickly growing. Its simple design makes this boat great for all genders and ages, especially youth sailors. Not only is this boat fun and exciting, but US Sailing has identified the 29er as one of the core classes of the Olympic Development Program for both boys and girls, making it the perfect boat for junior sailors striving to compete at a high level. 
The History
The 29er was introduced in 1998 by designer Julian Bethwaite who also designed the 49er. The 29er was born due to the increased need for a suitable 49er youth trainer boat. It took about two years till the 29er was officially launched, in the article History of the 29er written by designer Julian Bethwaite, he writes, "We estimate that, including the five prototypes and the pre-production demonstration boats sailing in Australia, North America, and Europe, the 29er has now had over 5000 hours of testing – a figure that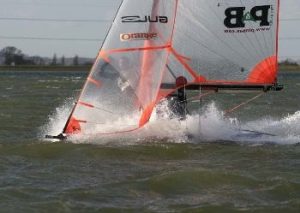 probably has never been approached by any other boat going into production." The original intent of the 29er was to become an Olympic Development trainer boat for youths which it became quickly; however, this class has not only become popular for that aspect but for the great class the 29er offers youth sailors. This exciting skiff has been quickly growing throughout the world since its launch back in 1998. 
The Boat
The 29er is a two person, single trapeze, asymmetric spinnaker skiff boat. The boat is lightweight with a self-draining cockpit. The 29er has a fully battened mylar mainsail and self-tacking jib which allows the sailors to play the mainsheet upwind and makes gybing downwind easy for the sailors. Optimal crew weight is considered to be 270 to 320 pounds. Sailors around the world sail in mixed crews or all boy or all girl teams. The composite-tipped mast and spinnaker gives the 29er speed and acceleration downwind. With all its high-performance features the 29er is sure to give sailors a fun, fast, and exciting experience out on the water!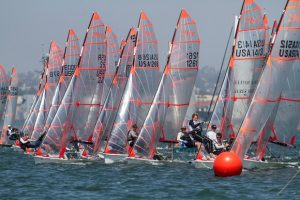 For More Information on the 29er class:
http://29ernorthamerican.org
https://www.29er.org